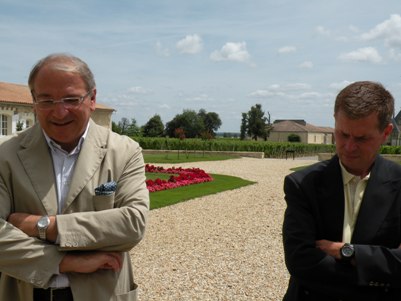 Author: Dirk Chan
A highlight of the entire trip so far in Bordeaux (and there has been many) has been our visit to the St. Julien Fourth Growth estate of Chateau Branaire-Ducru. Proprietor Patrick Maroteauxand Manager Jean-Dominique Videau (pictured) gave us 2.5 full hours of their time to go through their vineyards, their cellars, and their estate philosophy – this kind of attention is a rarity when visiting Bordeaux chateaux and made me appreciate the Chateaux and its wines even more than I already did.
One can certainly see their ascendency over the last decade in the Grand Vin, and how their philosophy for finesse yet still be representative of what a St. Julien wine should be is reflected in their stellar 2010, 2008 (really superb for the vintage), 2003, 2001 of the Grand Vin, which we tasted. As well, the improvement in the 2010 Duluc, their second wine is also noticeable.
Patrick and wife Evelynare one of only three proprietors who actually live in their chateaux in all of Bordeaux. It was very nice of them to invite us into the chateaux for a 'casual' lunch of Pate de Canard Chaud, Poulet a l'estragon with truffle rice, Soupe de fruits rouges and Fromages affines, a quartet of cheeses from the cheese caves of world renown cheesemaker and affineur (ripener) Bernard Antony, who happened to be staying with the Maroteaux's and he personally served us the cheese course. He was in Bordeaux to serve many a fine dinner for various famous Chateaux over VinExpo.
You may have read articles about Mr. Antony, whose cheeses are sought by aficionados the world over. He has serves many famous clientele including Queen Elizabeth II and presidents and dignataries alike. Apparently 80% of France's 3 Michelin star restaurants are supplied by him! He apparently has two caves full of cheese at his cave/cellar in Vieux-Ferrette, near Altkirch in southern Alsace. Don't ask me what the names of the cheeses served were (I only remember the Comte that was mind blowing), but my, they were all so complex with superior texture, depth and flavor, much like wine. What a thrill and honor to dine with a recipient of the Ordre National du Merite! I would have taken a picture, but I resisted, it would have been imprudent to take a picture at the dining table when being served by a legend.
One of my favourite and probably ever-lasting memories pertains to this Chateau (pictured below)..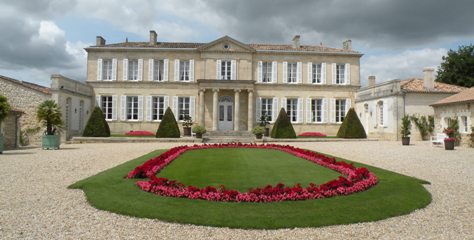 Vancouver Olympics – Team Canada's Gold Medal Men's hockey game – when Sidney Crosby scored, my drinking buddies and I consumed an entire bottle of the flattering 2003 Branair-Ducru in 5 minutes while inhaling Cuban cigars I've kept for 10 years from my visit in 2001 to the tobacco growing town of Vinales in Cuba – one of those unforgettable things you can answer definitively when asked what you were doing during the moment of the Golden Goal!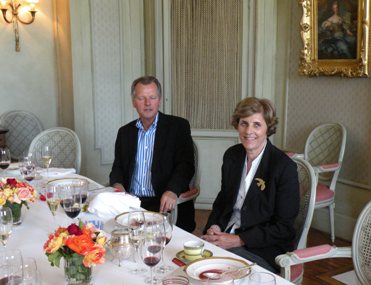 My thanks to Michael Schuster of International Cellars (pictured with Evelyn Maroteaux at lunch) for arranging this visit – a stunning lunch that ranks right up there with the Moueix Lunch. Tomorrow – A visit at Leoville Las Cases..