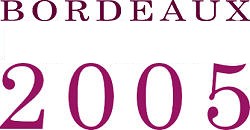 Author: Dirk Chan
The 2005 Bordeaux vintage is already touted with the 1961, 1982, 1989, 1990 and 2000 as one of the greatest vintages of the past half century. Winemakers say if you couldn't make a great wine in 2005, you might as well change professions. With prices soaring with the universal acclaim, those of you who bought futures are laughing, those who didn't will pay a higher tariff. It is a vintage not be missed and should be represented in any serious wine collection.
The growing season was spectacular with sunshine aplenty, lots of heat and the rain that came was precisely when needed. There is tons of fruit to balance the massive tannins combined with great acidity which makes the wines taste fresh and vibrant. Cellar these gems for a decade or two and then reap the rewards of your patience.
deVine has the following well chosen 2005 Bordeaux available. There are choices from all of the major appellations: St. Julien, Pauillac, Margaux, Pessac-Leognan, St. Emilion and Pomerol. Please note quantities are very limited and will be sold on a first come first serve basis.
2005 Château Haut-Colombier – $21.99

2005 Château Sainte Colombe – $28.99

2005 Château Hauchat La Rose – $34.99

2005 Château Bouscaut – $64.99

2005 Château Gombaude-Guillot – $62.99

2005 Château Chasse-Spleen – $74.99

2005 Château Ferrière – $81.99

2005 Château Haut-Bages-Liberal – $74.99

2005 Château Fombrauge – $76.99

2005 Château Brane-Cantenac – $109.99

2005 Château d'Issan – $127.99

2005 Château Pibran (Magnum) – $124.99

2005 Château La Providence – $154.99

2005 Château Clos Fourtet – $189.99

2005 Château Lagrange (Magnum) – $242.99

2005 Château d'Issan (Magnum) – $264.99