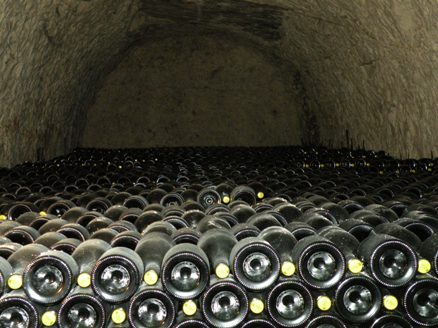 Author: Dirk Chan
The folks at Taittinger are engaging and fully prepared and experienced in giving tours. A tiny group of us got the special tour in the afternoon at 2:20pm, and they started right on time. A brief movie was played before the guide took us through the Champagne making process in the cellars.
The flagship Comte de Champagne is made from 100% Chardonnay from Grand Cru vineyards and usually aged in the cellar for ten years or more prior to release (pictured is one vintage of Comte – we were told out of 170,000 stacked here for aging, about 70 of them will break before release for unknown reasons – too much pressure, a week point in the bottle etc). Note the shape of Comte is the classically shaped bottle reminiscent of when Champagne was bottled back in the 14th Century during the time of Louis XIV.
As I said, these folks are prepared for hosting, there are many extremely ornate tasting rooms (see the one below pictured in its leather and black motif). The cellars are labeled in secret codes, so the guides don't even know the vintage of which Comte is being stored (a security feature). The caves are naturally cool and stays around the defacto standard of 13C or 55F year-round.
We tasted the NV Brut Reserve and the slightly more expensive NV Prelude which sees more bottle age. Finally, they gave us each a bottle of the 2004 Vintage Brut (only made in superb years) to take home with us – nice!
This is the final edition of Dirk's French Travel blog, hoped you enjoyed it. Lookout next for Ed and Annabelle's three month travel blogs to start shortly as they venture throughout Europe – Germany, Portugal, Burgundy and the Piedmonte.
In the meantime, deVine's 2010 Bordeaux Futures offering is now out, as well, look out for a blog with my personal remarks and assessment of the wines of this superb vintage upcoming shortly..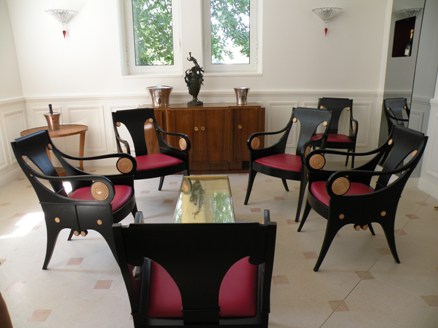 It is one vintage you want to have in your cellar.