Author: Ed Fong
According to the Chinese zodiac calendar, and some of my friends and colleagues, I am a Rat.  I share this distinction with people like Idi Amin, Heinrich Himmler and Alexander the Great.   However, I'm from the 1960 edition, which I take great comfort in as it helps to separate myself from this villainous bunch.  2008 also happens to be the Year of the Rat, and the year I chose to find the perfect pig.  I consulted a Chinese calendar and found that I was not compatible with Horses, but should seek out Monkeys, Dragons and Oxen.  My journey was therefore safe, though unendorsed.  And so my search begins.

July 12/08 – Salamanca, Spain:  When planning my trip to Europe, I read somewhere that the roast suckling pig in Salamanca was fantastic.  It was all I could think about for six hours as we drove through the driving rain over the Spanish Pyrenees and down the dry, hot, arid highway to Salamanca.  After checking into our hotel, I suggested to Annabelle that we scout out a place for dinner that served this famous roast pig.  Annabelle looked at me as if I was on controlled substances, and asked me to explain what I was talking about.  I told her I read that Salamanca was famous for this dish, and that I wanted to compare it with the Portuguese and Chinese version.  After my explanation, Annabelle categorically stated that Salamanca was not famous for roast suckling pig and that I will not find in on a menu in the city.  It was all an illusion!  I had fantasized about something that did not exist.  Fortunately, I was familiar with this feeling and proceeded to settled for dinner at an American fast food restaurant.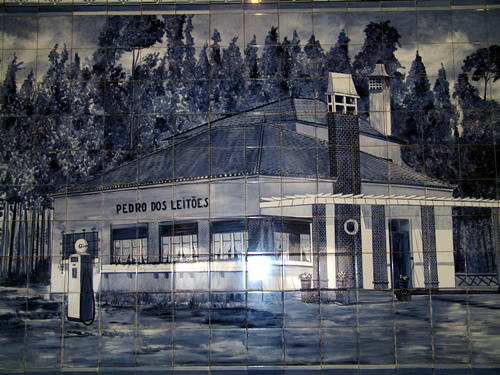 July 22/08 – Mealhada, Portugal:  Ten days later, I find myself staying in the spa town of Luso, smack in the center of the Bairrada wine region.  During the interim, I had come down with food poisoning and had to visit a hospital in Faro.  I was not sure if it was the overdose of fois gras and duck confit I had in Dax or the burger at the restaurant whose name shall remain anonymous in Salamanca.  The only thing I can say is that it was a whopper of an experience that knocked me on my ass for a week.Fully recovered, I was once again thinking of food, and more specifically, leitao assado, or Portuguese Roast Suckling Pig.  The most famous town to enjoy this regional specialty is Mealhada, located due west of Luso just 6km away.  For lunch, we were going to dine at the restaurant that first commercialized this dish in 1949, Pedro dos Leitoes.  Brightly lit and able to serve 400 people in a sitting, the restaurant is a model of efficiency.  The piglets are butchered on site, with the whole process veterinarian supervised.  Up to 40 animals can be cooked at any time in their numerous brick ovens.  On a busy day, 100 piglets can be served up to their hungry guests!  Despite their efficiency, and my growling stomach, I convinced Annabelle to sit in the smoking section where we did not have to wait for a table. We ordered a kilo of leitao and a bottle of sparkling red wine, the traditional regional pairing.  For sides, a lettuce and tomato salad and round cut fries.  This was going to be a feast fit for a rat!  Our grand dish arrived shortly and looked absolutely beautiful.  The dark brown, oven roasted crispy skinned meat looked like a piece of art on top of our crisp, white table cloth.  The anticipation was killing me.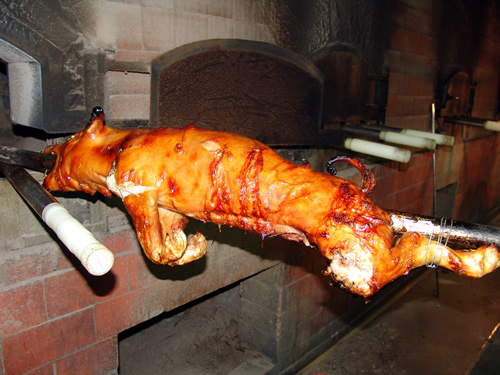 The meat was very juicy, succulent and absolutely fork tender.  I would imagine that the meat was marinated for a period of time in spices as the flavor was well distributed throughout the tasty morsels.  White pepper is the predominant spice used, as well as garlic and other "secret" ingredients.  Our sparkling Alianca red paired magically with the food.  The acidity of the wine cut through the rich, fatty flavors of the dish and stood up well to its peppery, salty spiciness.  After consuming about 850 grams of pork and knocking back three quarters of a bottle of wine, I nearly knocked myself out with the door trying to leave after our two hour meal.  Annabelle laughed herself sick after witnessing my graceful exit.  This meal was in the top three of my entire trip.  I left the restaurant fulfilled, satiated and somewhat embarrassed from my klutzy episode.  Blame it on the wine…………………..
If you ever find yourself in Portugal near Mealhada, this is a "must experience".

July 26/08 – Sangalhos, Portugal: Located about 12km north of Mealhada, Sangalhos is home to the Alianca winery in Bairrada.  We were received by Paulo Marques, Alianca's Export Director, for a personal tasting at the winery.  After sampling a dozen and a half wines, we were joined by Carlos Campolargo for lunch in the banquet room.  Carlos Campolargo's wines are imported into Alberta by my old childhood friend, David Luetkehoelter, owner of Artisan Wines.  It was Annabelle who put Carlos and David in touch with one another so that the wines can be on the shelves of Alberta retail stores.  Small world.  And it seemed almost surreal to experience this all so far away from home.
Tasting wine critically is hard work, and there is no better way to unwind after a morning of sampling and note making than a meal of leitao!   The winery often serves suckling pig for their visitors, and I was dying to compare this version to my experience in Mealhada.  This leitao was not roasted in-house, but catered out by the winery.
Our leitao soon arrived and was served with sliced oranges and a green salad.  It was spicier than the first version, evidenced by the coating of white pepper and spices clinging to the interior bones.  With the crispy skin, juicy fork tender meat and infused spices, I was in heaven again.  Veteran leitao consumers Carlos and Paulo both enjoyed their lunch.  Annabelle preferred today's version and said it was more "classical" in style.  Me, I would love to taste both versions again, side by side.Big thanks to Carlos and Paulo for hosting us in Portugal!  A special thanks to Paulo for scaring the daylights out of me by racing through the narrow streets in Sangalhos and helping me find my perfect pig.  Cheers!
Sep 28/08 – Grandview Heights, Edmonton:  Every once in awhile, I get together with a group of people in the wine trade for a tasting and some casual fun.  We call ourselves the "Vino Vigilantes", and the theme for our tasting this Sunday was Spain & Portugal.
This is the perfect excuse for me to serve leitao to my fellow wine lovers.  The event was generously hosted by Cathy and Spike Maynard of Harvest Vintage Imports.  My job was to find the pig and the wines to pair with the sucker.
I asked Annabelle for a source of leitao in Edmonton, and she said she knows of only one place that did it.  Annabelle called Euro-Canadian Catering & Takeout, a Portuguese caterer located on 8656-118 St.  It turns out they needed at least a weeks' notice to pre-order suckling pigs.  We were too late!  And my dreams for recreating my Portuguese experience shattered.
If we cannot get leitao, we can get the Chinese version!  Having recalled how popular deVine's Roast Suckling Pig & Wine Tasting was, I called my father to put me in touch with the best Chinese BBQ house in the city.  He recommended Kam Wah, located on 9671-102 A Ave. and ordered one on our behalf.
Paulette Lukowich of Pacific Wines & Spirits and I picked up "Porky" at 1:00 PM.  Porky was about 4kg, the perfect size for our group.  Suckling pigs should ideally be 3-5 kg in weight, and not more than 6 weeks old to be the most flavorful, tender and juiciest.  As Annabelle stated, any bigger than that, they are not suckling (on mother's milk) anymore.  The butcher quickly cut the piglet up into small pieces for us, taking care to put them back so they resembled the original shape of the animal.  The meat was laid out in a flat box and left uncovered to preserve the crispiness of the skin.
As we walked back to the car with box in hand, we could not help but stop to enjoy an oven fresh piece in the parking lot.  OK, I lied, we had three pieces each.  The skin was crispier, with the charring more pronounced than leitao.  Chinese roast suckling pig, or Euh Chu, literally means "little pig".  It is not peppery like leitao and has a slightly sweet marinade applied to it during the roasting process. 
By the time we had Porky around 6 PM, I could tell the skin had lost a bit of its crispiness.  Next time, I'll recommend it be enjoyed oven fresh at the next party.  Despite the hint of sweetness, it paired beautifully with the Luis Pato sparkling rose from Portugal.  We managed to mesh the Chinese and Portuguese cultures together again for the evening (don't forget about Macao). 
The highlight of the evening was watching the reaction of Christina Masciangelo of Empson Canada when she first peered into the box containing Porky.  Poor Chris!  She didn't expect a head to be staring back out at her and nearly jumped out of her socks.  Priceless!  When I returned home that evening, I received an e-mail from Spike.  He told me he was enjoying the ears with a Rogue Ale.  Gotta hand it to those Aussies for being an adventurous bunch. 
Everybody enjoyed the Chinese roast suckling pig and it was part of a very fun evening.  Traditionally, this dish is often served at weddings, special events and birthdays.  I vow to enjoy this with my friends on a more regular basis.
Afterthoughts:  2008 was the year I found my perfect pig, twice in Portugal and once in my own backyard.  I'll continue my search and look forward to trying new versions from different cultures.If you want to try the Chinese version, call Sunny Meat & BBQ (Kam Wah) at (780) 420-0292.  Call Euro-Canadian at (780) 479-0211 to order your leitao. Who would have known that Rats are compatible with Pigs?   Just don't ask Porky.