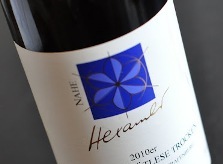 Author: Dirk Chan
Our Top Drops series that focuses on top drawer wines has been immensely popular over the last several years. We've got some doozies planned for 2012.
You're all probably were aware that deVine proprietors Ed Fong and Annabelle Evaristo visited Germany extensively last summer and the fruits of their winery visits have finally arrived. Over 50 exclusive new products are now on our shelves and this is Riesling heaven for the lover of that grape. In a rare white wine Top Drops, please join Ed and Annabelle on Saturday, March 31 for the wines of the Nahe, located in south-west Germany in the first of a series of Top Drops Germany over the course of 2012 including the Mosel, Rheingau and Rheinhessen regions to come. Featured will be the wines from the legendary and probably most sought after German producer overall, Helmut Donnhoff along with neighbours Helmut Hexamer and Emrich-Schonleber. We will be serving German food with this small and intimate sit-down tasting for 18 people – this event is already more than half full so register now to avoid disappointment. Book your spot here..
For April, we visit France and Bordeaux. The trio of Bordeaux vintages 2008, 2009 and 2010 is an exact replay of 1988, 1989 and 1990, the last time that we saw three great vintages in succession.The 2008's will be forever in the shadow of the two subsequent campaigns, but the astute buyer will see it as an opportunity to score some deals (although when it comes to Bordeaux, it is all relative when you talk pricing). The Merlot based Pomerol region reigns supreme in 2008, but there are some excellent St. Emilions and some very fine left bank wines too. Join us for a detailed sampling of high end 2008 Bordeaux. Only 18 seats in this sit-down event, so grab your spots early to avoid disappointment. Book your spot here..
We hope to see some of you at one of these upcoming Top Drops events. In order to grow and move to the next level of wine enjoyment, you must taste better and better wines and expand your palate. Top Drops will take you to that next level of wine appreciation.
Please Note: For all of our paid tastings, we require 48 hours notice of cancellation for store credit only. No store credit if cancelling inside of 48 hours.