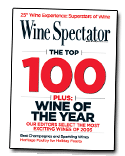 Author: Dirk Chan

Every year at this time, the buzz begins as we speculate what wine will top the list of the Wine Spectator's Top 100 Wines of 2008. The influential American wine publication has long cast a spell over the wine collector or enthusiast, each of us wanting a piece of the action. We secretly hope some of our wine purchases made throughout 2008 will be reinforced by the inclusion in this prestigious list. A pat on the back for having made good choices. So do you want to know what wine is #1?
Every wine connoiseur knows that once the list is out, the availability of these wines will be scarce and the price will sky for those that make the Top 10.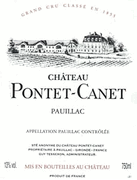 For example, the price of last year's winner, the 2005 Clos des Papes almost doubled overnight to over $200 and still to this date demands a far greater price than any other great Clos des Papes since 1998 (with the exception of 2002) despite the fact that these other vintages are all uniformly excellent as well.For wine merchants, it is a guessing game too but with some additional stakes -we have been holding back some of the high scoring wines released in the early part of 2008, and we are now stocking up on currently available wines that we think may make the grade. Having these in the store will allow us to host our  Wine Spectator Top 100 tasting, our perenial lead off tasting of each year in January. We've been lucky over the years, I would say we annually have about 20% of the top 100 to offer to our clients. Enough booha, let's play the guessing game: post your thoughts of which wine you think will be named the Wine Spectator's #1 Wine of the Year, we can laugh at our choices in mid November.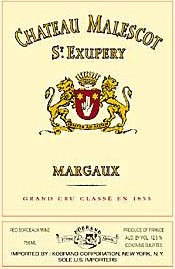 Here are some of my thoughts:
1) there will be close to ten Bordeaux from the fabulous  2005 vintage on the Top 100 list, with the Wine of Year being one of  Chateaux Pontet-Canet, Malescot St. Exupery, Cos d'Estournel or Rauzan-Segla. All of these wines scored between 96 and 98 points, are widely available and reasonably cheap (the 3 major criteria) – $150-275 release price. (I can't believe I'm saying that is cheap!!). If you bought futures of these, you're laughing for they are already hard to find.. Many are citing the 100 pointer Ch. L'Evangile from Pomerol, but alas I doubt this will top the list as $1000/bottle hardly constitutes as cheap, but availability is only a few thousand cases, all of which are in private cellars already.
2) If it is not a 2005 Bordeaux, then it will be the 2005 Concha y Toro Don Melchor Cabernet Sauvignon. This world class Cabernet has been knocking on the door, being in the Top 10 several times over the last decade, and this may turn out to be a Lifetime Achievement Award much like the Phelps Insignia was a few years ago. Doesn't hurt that it scored 96 points, and sells for a reasonable $80 (for now).
3) A Robert Mondavi Cabernet Sauvignon will make the Top 20, a tribute to the recently deceased pioneer.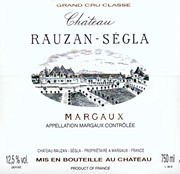 4) The Super Tuscan Ornellaia will make an appearance in the Top 20, the 2005 being their 20th Anniversary release. Surely one of the great Italians of all time (major bias here on my part).
5) The 2007 Seghesio Sonoma Zinfandel will make the Top 10 – 93 points and reputed to be one of the best bottlings in over a decade. Sells for a bargain price of $28.
6) The list will be dominated by 2005 French wines, not only from Bordeaux, but also from the regions of Burgundy (Jadot, Potel, Bouchard Pere), Rhone (Beaucastel, Chave, Clos des Papes, Chapoutier), Alsace (Zind Humbrecht, Weinbach), Loire (Huet) and Sauterne (Guiraud).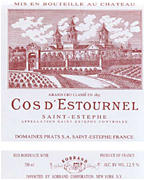 7) A fare number of Italians to be represented from the great 2004 vintage from Tuscany and Piedmonte.
My head is sticking far out of the window already.. Happy guessing!!
Be sure to look out for deVine's first wine tasting of 2009 in January, which perenially will be the WS Top 100 tasting.