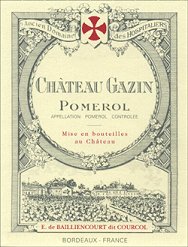 Author: Dirk Chan
Hot on the heels of the equally great 2009 vintage, 2010 is yet another legendary year which will be highly sought out throughout its lifetime. While the 2009 are fruity, flamboyant and California like, the 2010s are in the classic, ageworthy style – the comparison between these two vintages will parallel the ongoing debate between 1989 and 1990.
Our last Top Drops tasting of 2013 on Saturday, November 23 at 7pm will feature the Merlot dominant Right-bank wines from the famous and expensive appellations of St. Emilion and Pomerol. The growing season was near perfect in 2010, and the earlier ripening Merlot was in top shape for these two appellations. The other grapes, Cabernet Franc and tiny amounts of Cabernet Sauvignon also saw an ideal growing season.
Pomerol saw tiny yields due to small grape size, thus the fabulous concentration, the 2010's compares favourably to other historic vintages like 2009, 2005, and 1998 while St. Emilion in 2010 may be even more consistent as an appellation than 2009, it can be spoken in the same breath as the legendary 2005 and 1998's. Speaking of 1998, perhaps a surprise wine from that vintage is in store for those who attend to sample some of the greatest Merlot based wines made anywhere in the world.
Only 18 seats available for this event, so be sure to book early to avoid disappointment. Register online for the Top Drops: 2010 Right Bank Bordeaux tasting here..
For complete listing of all available 2010 Left Bank wines, click here..
For complete listing of all available 2010 Right Bank wines, click here..