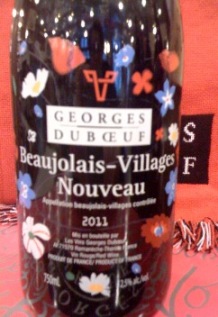 Author: Dirk Chan
As is tradition, on the 3rd thursday of November, the world awaits in anticipation the arrival of Beaujolais Nouveau. deVine's shipment has just arrived. deVine will be receiving the 2013 Georges DuBoeuf Villages Beaujolais Nouveau – $22.99 this year.
For the price, the Villages is a much better bottling than the regular Nouveau. The Gamay grapes were picked just three weeks ago, and after a very short fermentation, it is bottled for its freshness while offerinig beautiful strawberry, black currant, bannana and some hints of cedar with a nice backbone that gives off bright, lively flavors of morello cherry confiture and finishing with hints of allspice and cloves. Nice smooth mouthfeel and virtually tannin free due to the short exposure to the skins. So, for your Beaujolais Nouveau party, serve this slightly chilled with some poultry or spicy meatballs and for something ambitious and over the top, a roast duck with a reduced cherry sauce.
Some interesting Nouveau tidbits:
1) The region of Beaujolais is 34 miles long from north to south and 7 to 9 miles wide north of Lyon in southeastern France
2) there are nearly 4000 growers in the region
3) Gamay is the only grape permitted for Beaujolais and only grapes grown in Beaujolais or Beaujolais Villages is permitted in Beaujolais Nouveau, there are no grapes from the Cru vineyards allowed
4) Beaujolais Nouveau must be drank sooner than later and served slightly cool at about 13C.
5) Beaujolais Nouveau is a marvel of modern day advertising, with the marketing engine in full force, arriving just in time for the American thanksgiving, and 70 million bottles overall. How they manage to ship everything in a timely manner boggles the mind.
Enjoy this with a large group of friends or family, and serve it slightly chilled.
Purchase your 2013 DuBeouf Beaujolais Nouveau online here..