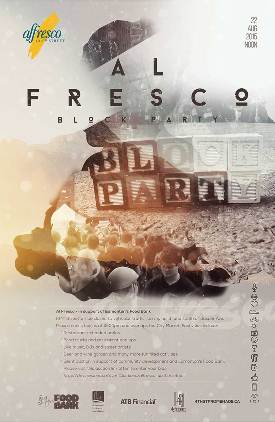 Author: Ed Fong
Al Fresco, the eagerly awaited 104th-St. community block party and fundraiser, is almost upon us. Please save the date and come visit us and our neighbors for a full day of fun and festivities.
Special thanks to ATB Financial – Downtown Edmonton Branches and the Downtown Business Association for sponsoring this great event. Your support is greatly appreciated!
Al Fresco at deVine Wines
deVine Wines is assisting the 104th-St. community by managing the popular online silent auction in support of Edmonton's Food Bank and community development.
You can view and bid on items online by following this link:
http://devinewines.ca/eventAuctions/alfresco_auction.html
Bidding can also be done in person at deVine Wines until 9:00 PM, Saturday, August 22, 2015. To be fair to all bidders, online bids time stamped after 9:00 PM will not be accepted. Those who can't come down can also submit their maximum reserved bids which must be sent to "info@devinewines.ca" by 9pm Friday night.
Items that are currently located at The Helm and at the Eye Care Group will be centralized at deVine Wines in the afternoon to facilitate bidding.
Free wine and beer samples will be offered to you while you shop and bid on your most coveted items. Please see our tasting schedule below for more information:
11:00 AM to 3:00 PM – Join Derek Jackson from International Cellars to sample wines from Glen Carlou, South Africa. The Pinot Noir, Cabernet Sauvignon and "Quartz Stone" Chardonnay will be offered.
12:00 PM to 3:00 PM – Craft Beer Importers will be pouring a selection of fine beers.
4:00 PM to 7:00 PM – Join Ryan Everitt from Trialto Wine Group to sample wines from Vina Montes, Chile. The Sauvignon Blanc and Cabernet Sauvignon from the "Classic" series, along with the "Alpha" Syrah, will be sampled.
Downtown Super Saturday
We are excited to share this exciting day with a host of other activities in our neighborhood. With so many things to do, we can't help but call August 22 Super Saturday!
9:00 AM to 11:30 AM – Downtown Edmonton Community League Pancake Breakfast
Cost: $2
Location: 10042-103rd Street
Facebook: https://www.facebook.com/events/1457431034553858
Website: http://www.decl.org
9:00 AM to 3:00 PM – City Market Downtown
Come out and enjoy the best outdoor market in Edmonton!
Location: 104th-St. north of Jasper Avenue & 102nd-Avenue
Website:
http://city-market.ca/wp
Al Fresco on 104th-Street
Please note all times listed are approximate. Programming is subject to change.
Al Fresco festivities begin at 12:00 PM and run until 10:00 PM.
12:00 PM to 9:00 PM – Food Truck Heaven!
We are gathering members of the food truck community together for your enjoyment. The trucks will be located on 104th-St. between 100th-Avenue and Jasper Avenue. A few of the participants are listed below:
– Pampa
– Chipman ¼ Fries
– The Patty Wagon
– Moose on the Run
Please check out the Farmers' Market as well for additional trucks to visit.
12:00 PM to 10:00 PM – Al Fresco Watering Hole
A great group of restaurants have teamed up to turn the Melcor parking lot into a fun place to meet for food, drinks and lots of fun. The Watering Hole is the parking lot located between the Armstrong Block and the Great West Saddlery Building. You can't miss it. It's the one with the arch over the entrance.
Admission is $2. Admission cost does not include food and drink.
– Beer by Alley Kat & Mercer Tavern
– Wines by Vendemmia International Wines
– Sangria by Sabor
– Food by Sabor
– Cold pressed coffee by Iconoclast
– DJ Entertainment: Mr. Kou, Polyesterday, Freshlan & Joses Martin
5:00 PM to 10:00 PM – Extended Patios
The following restaurants and bars will feature extended patios to bring festivities right onto 104th-St. A perfect way to enjoy a great summer evening with friends!
– Blue Plate Diner
– Tzin Wine & Tapas
– The Burg
– Kelly's Pub
– Cask & Barrel (starts at 12:00 PM – located south of Jasper Ave at 10041-104th-St.) Come check out their stage for some great live music!
Music performances by Mayday and Beatcreeps
5:00 PM to 10:00 PM – Food, Snacks, Farmers' Market Vendors & Street Merchants
A host of merchants and vendors will be offering food and wares for your eating, shopping and exploration pleasure!
– Evoolution – Product display until 8:00 PM
– Earth's General Store – Open until 9:00 PM. Come check out their café!
– Workhall Boutique – Come check out their clothing rack
– Couleur du Vin Salon & Spa – Massage chairs on 104th-St.
– Holiday Inn Express – Wedding display
– Nikita Creamery – Hard ice cream, slush puppies & grilled cheese
– Scoop n Roll Catering – Hard ice cream
– Seoul Food – Korean food offerings
– Sweet & Spicy
– Head Waters Clothing
– Mr. Jerky Smokehouse
– Ada's Soap Shop
– AIG Produce – Fresh fruit from BC
– The Bangle Box
Special Exhibitors – Please visit these fine businesses to learn more about their services:
– Edmonton's Food Bank – Our charity of choice for Al Fresco 2015. Information booth and truck located south of Jasper Avenue.

– ATB Financial – Corporate sponsor for Al Fresco 2015. Apply for financial services and receive a Front of the Line Pass to the Al Fresco Watering Hole. Information booth located on the corner of Jasper Avenue and 104th-St in front of the old Sobeys entrance.
– Pogo Car Share
Restaurants Open to Serve You – The following restaurants will be open during Al Fresco:
– GoGo's Bistro & Lounge
– Black Pearl
– Cavern
– Dauphine Bakery
Music in the Park – Enjoy live music in the newly reconstructed pocket park located next to the Icon I Tower.
– Six/Ten Jazz Band (5:00 PM to 6:00 PM / 6:15 PM to 7:15 PM)
– Delirious Band (will perform after Six/Ten)
Performing DJs – Various DJs will be pumping out the tunes at Al Fresco throughout the venue.
9:00 PM to 3:00 AM – Mercer Tavern After-Party (10363-104th Street)
The party continues at Mercer Tavern after the patios shut down.
Website:
www.mercertavern.com
We hope you can all come down Saturday for the festivities – and please remember to bring items for the Edmonton Food Bank.