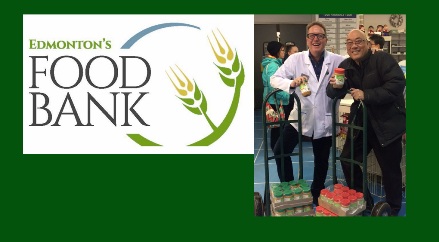 Author: Ed Fong
Big thanks to our Team at deVine Wines and our partners in the wine industry for stepping up for Edmonton's Food Bank on short notice.
Together, we raised almost $5,000 in bids for our impromptu silent auction and filled two large bins with food for those in need.. Kudos to Dirk Chan for administering the auction, the Evaristo Family for their generous contributions and our special partner, Chris Graham, Owner/Pharmacist of Shoppers Drug Mart, Edmonton City Center East.
Chris partnered with Ed Fong in a scheme to demonstrate how we need to "think outside the box" when it comes to helping charities in these difficult times. Ed proposed he redeem all of his Shoppers Drug Mart points for peanut butter, a highly sought after item identified by the Food Bank. Chris said he would match Ed's donation dollar for dollar, and together, were able to donate 72 jars of peanut butter. Both Ed and Chris were able to tap into another method of helping Edmonton's less fortunate.