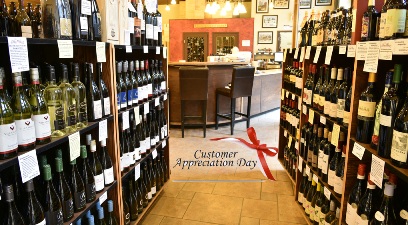 Author: Dirk Chan
Mark your calendar for Thursday, December 14th!
Every year, deVine Wines will host our annual Customer Appreciation Day – Thursday, December 14th to say a special "Thank You!" for your ongoing support and patronage.
deVine Wines will be offering our customers a 10% discount ** on all in-stock regular priced wines and spirits plus additional select items up to 30% off. The sale will run all day, starting at 10:00 AM until we close at 8:00 PM. There will be a wine station and one beer station set up for free sampling from 3-6pm. It's a great opportunity to do all of your Christmas shopping in one day.
A plug also for other 104th Street businesses also having Customer Appreciation specials – they include Cavern, Evoolution, Eye Care Group, habitat etc and Unit B Coworking. Read about all the specials in this Word document here..
**The sale excludes beers and ciders as well as wines stored in our vintage keeper or vintage room. Cannot be combined with other sale items and no rain checks.
See you on Thursday, December 14th.