Not too far from Mastroberardino and up very winding roads at 500m above seal level, is the other famous Campanian winery Feudi di San Gregorio whom deVine has had a long relationship with. I visited with Lyllian Mele on a lovely afternoon. What was immediately obvious was how big this operation is – here is one of the biggest in production with over 4 million bottles produced annually.
Although a young winery (started in 1986), they have over 300 hectares of planted vines, and 850 different parcels of land with vines amongst the villages Sorbo Serpico (where the winery resides). In time, this was joined by the vineyards of Tufo, Taurasi and Santa Paolina.
Feudi is a strong advocate for the local grape varieties Aglianico, Fiano di Avellino and Greco di Tufo. The Taurasi is the "Barolo of the south" – Taurasi is a DOCG since 1993, it represents the apogee of what the Aglianico grape can do, and although there are many Taurasi wines being produced by many producers in the area, the Feudi version represents a large percentage of its production and is sold everywhere and also often awarded for its elegance and refinement.
Quite modern in approach (with tight security) but respecting the past and traditional practices, they have over 350 stainless steel tanks in use. Surprisingly only 30% of the production is exported (to 50 countries), with the other 70% remaining in Italy.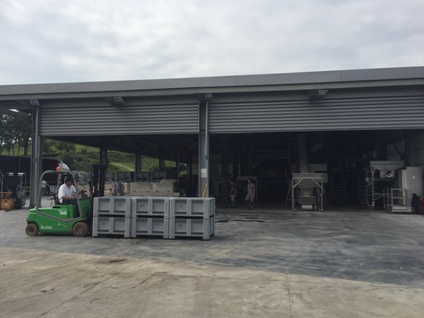 We went outside and saw the lovely gardens overlooking the white grapes, then we were lucky to see the first of the Falanghina grapes being brought into the winery for de-stemming (see pictures). After the winery and cellar tour, we tasted a lovely DUBL Sparkling Aglianico, the classic Fiano di Avellino, and the magnificent Piano di Montevergine, Taurasi Riserva DOCG, 2012 all three excellent and typical of the grapes.
My favourite is their flagship Serpico, produced from century old vines of Aglianico.
We have four Feudi di San Gregorio wines in stock for your consideration:
2016 Feudi di San Gregorio Primitivo (Alberello, Italy) – $21.99
2014 Feudi di San Gregorio Rubrato (Campania, Italy) – $31.99
2012 Feudi di San Gregorio Taurasi (Campania, Italy) – $49.99
2012 Feudi di San Gregorio Serpico (Campania, Italy) – $109.99
A link to the previous travel blog here..
Next up – Villa Matilde..