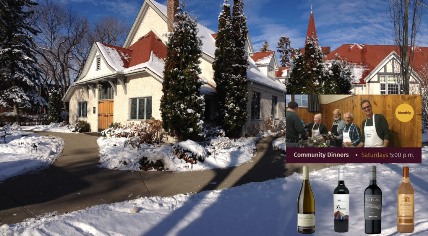 Author: Denise Brisson, Cellar Stock Importers
For 25 years, the Christ Church Community Dinner Program has provided a monthly dinner and a time of fellowship to those in need. This is an important part of our community outreach. We serve approximately 1300 to 1400 guests from September to June (about 140 per dinner). Many guests are hungry and have second helpings so the number is closer to 1800 plates. As the economy becomes more challenging that number continues to increase every month. This outreach is done in conjunction with 3 other downtown churches to ensure a hot meal is provided every Saturday. During the summer Christ Church prepares a BBQ of hot dogs & hamburgers every Friday.
Join deVine Wines and Cellar Stock Importers on Saturday, December 7th from 2 till 5pm for a free drop-in tasting where you get to try some wines that will match your upcoming Christmas dinners and parties. For every bottle sold, 10% will be donated to Christ Church Community Dinner Fund.
We hope to see all of you on Saturday, December 7th.