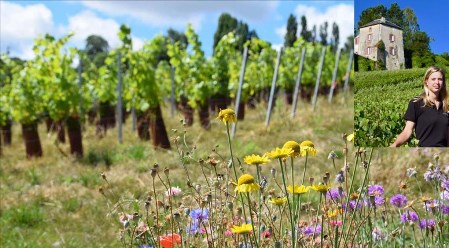 On Thursday, April 27th @ 7pm deVine and Lanigan & Edwards Wine Merchants welcomes winemaker Alexandra Liebart from Champagne Liebart-Regnier for a evening of fine Champagne.
In 1960, the young winegrower Lucien Liebart settled with his wife Georgette Regnier in Baslieux Sous Chatillon, a small little village in the Marne Valley, and together they founded the Liebart-Regnier Champagne House. When his father died in 1987, Laurent naturally took over the family vines, and was later assisted by his wife Valérie. Nowadays, daughter Alexandra together with Laurent are the winemakers.
The house philosophy is to ensure that the range of champagnes reproduce the expressiveness of the land hence terroir-driven. Respecting the environment goes hand in hand with alternative techniques such as incorporating lunar cycles during planting, tilling, cover planting, sexual confusion and so on, putting these methods into practice to cultivate the vines.
Champagne Liebart-Regnier is a wine Récoltant Handling (RM-25625-01 logo at the bottom of the back label). This RM symbol assures you that the product is entirely from the Champagne vineyards on our estate.
Winemakers are busy people these days and we see less and less of them travelling to our neck of the woods so please join us for this stand-up tasting where you can rub shoulders with the person making the wines you'll be tasting. Only 36 spots available.