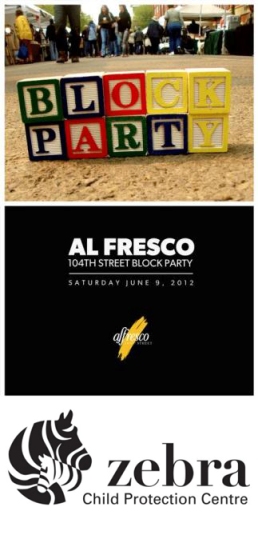 Author: Dirk Chan
The 104th-Street community is thrilled to announce Saturday, June 9 as the date of our 4th annual Al Fresco block party and fundraiser. Mark your calendars and save the date for an action packed day of fun and excitement in the downtown core!
So many people from the community are working very hard to plan this exciting day (complete details upcoming in a future blog and e-newsletter). In the meantime the online auction is well under way and we encourage you to participate by bidding on items:
http://devinewines.ca/eventAuctions/alfresco_auction.html.
Please bookmark this url and come back often. Auction items will begin to be displayed at deVine's starting the week of May 14th, please visit us.
This year's charity of choice is the Zebra Child Protection Centre which is a non-profit, community-based organization that was established in 2002 to improve the lives of children who have suffered abuse. Through Zebra's community partnerships, the Centre is able to provide children and their families with essential social, medical and mental health services and supports. To find out more, please visit their website at http://www.zebracentre.ca

How Can I Help?
You can help us achieve our goals in many different ways.
1. Come downtown and celebrate with us on June 9. The restaurants, wine bars and food trucks will be donating a portion of their proceeds in support of Zebra. Net proceeds from the Downtown Community League Pancake Breakfast and the gate receipts from the "Tasting Lot" will be donated to Zebra.
2. Participate by bidding on our on-line silent auction. Last year, nearly $20,000 was raised for E4C's Edmonton School Lunch Program. The on-line silent auction can be tracked on deVine Wine's website at http://devinewines.ca/eventAuctions/alfresco_auction.html. Please bookmark this url and come back often, the online auction starts Wednesday, March 28th.
3. Donate an auction item. We are seeking auction items to make this our most successful to date. If you are interested in donating an item to the auction, please fill out the in-kind donation form and then email the completed form to Ed here.
4. Donate item(s) from the Zebra Centre's "Top 5 Wish List". The Zebra Centre needs:
– Non-perishable snacks & juice boxes
– Sweaters/hoodies for kids under 8 years of age
– Gift cards from teen related stores
– Jewelry for young teens
– Board games for children
Prior to Al Fresco, these items can be dropped off at deVine Wines and Spirits at 10111-104th-St. We will have drop boxes set up at the Zebra Information Table on the day of June 9 to receive any "Top 5 Wish List" donation items as well.
5. Make a cash donation. Please fill out the donation/tax receipt form here and then email the completed form to Ed here.
6. Donate your time. The Al Fresco Planning Committee is always looking for eager volunteers to help us run this exciting event. If you would like to volunteer your time, please contact Caitlin McElhone at 780.761.6682 or email Caitlin here
Please don't forget to mark your calendars for Saturday, June 9th, and we hope to see everyone downtown for this special event.