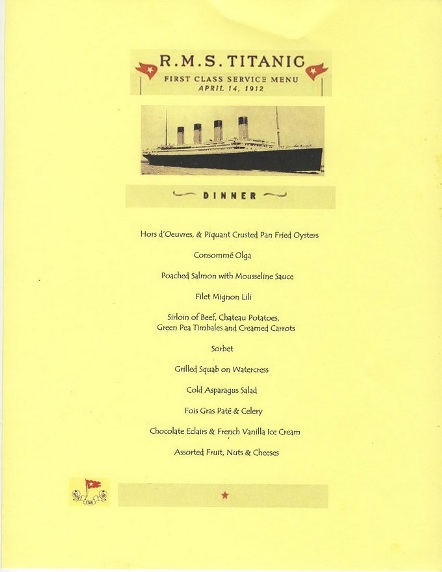 Author: Dirk Chan
Pictures: Hai Nguyen and Wayne Logus
It was a "Titanic" dinner and the double meaning was entirely appropriate as on Saturday, April 14th, on the 100th anniversary of the sinking of the Titanic, twenty one of us decided to do a replica of the last dinner on board the ship. The timing was perfect, it was on a saturday, it was cold and wet out, and chances are we won't be around for the next centennial anniversary. The event was held at Mercer's Catering (our great thanks to Jill Mercer for allowing us the use of her wonderful space, with a kitchen worthy of the ship itself).
The menu was ambitious and we cut it down to ONLY 11 courses (it took us from 7pm to almost 1am to finish – we carried our bellies home). The attendees selected one or two courses that they were going to prepare and it worked out wonderfully. The wine menu has never been recovered so we did our best to pair with quality wines to each course. I've always wondered what happened to what must have been an enormous and great wine cellar on board the ship.
We tried to be as authentic as possible – we were all decked out in either First Class finery or lower berth slum-wear. Flowers were the traditional pink and white. Music was what was heard from the Titanic ranging from Tchaikovsky, Verdi, to ragtime, piano, Viennese Waltz music as well as what was said to be the last tune played by the String Trio onboard the Titanic – Songe d'Automne. Wayne, one of our contributing photographers, brought doilies for the flower arrangements, a couple of morse code machines, a British flag, and an officer's whistle that was used to announce the start of the meal as well as a call to attention where each guest got up to speak to their respective courses. We must mention and thank our two wait staff, who were tremendous and even dressed their parts – amazing.
Great fun was had by all, with only the inclement weather that prevented the men from going out to the attached deck for cigars and port. . Memorable in every way and a great way to pay tribute to a tragedy that forever changed maritime safety, as well as a great excuse to spend quality time with friends and loved ones and to empty out the cellar somewhat.
To view the food and wine menu and a selection of photo's from the 'Titanic' evening, click here for Word, click here for pdf,

Enjoy!