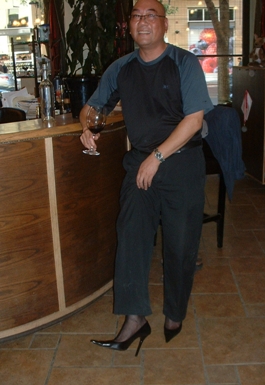 Author: Ed Fong
Each December, deVine Wines holds two sold out wine tasting events featuring some of the best value driven wines the team has recently discovered. We will be hosting a special session of Best Bang for the Buck tasting on Thursday, September 6th, in support of the YWCA's Walk A Mile in Her Shoes Campaign. All gross proceeds will be donated to the YWCA in support of their Family Violence Prevention Programs.
In the spirit of this fundraiser, Ed Fong, Managing Partner of deVine Wines, will serve wine to you in heels that evening. Hopefully, Ed will be joined by his male co-workers "man enough" to walk in similarly attired footwear. So please come out and show your support for a great cause.
Seven fantastic wines will be showcased at this event: a Prosecco to attenuate your taste buds and set the mood, two whites, three reds and a Vintage Port. Tickets to this fundraiser are $25 each. If you would like to register for this event or view the full menu, please click
here..
Reservations can also be secured by calling the store at 780.421.9463.
Our goal is to sell a minimum of 60 tickets to raise $1,500 for the YWCA. In 2010, Ed donned his stiletto pumps and participated in the first Walk a Mile in her Shoes event in Churchill Square. Your support and donations of $1,200 enabled Ed to become the top individual fundraiser in the walk. If you cannot attend the event but would still like to make a donation, please follow this
link..
Your pledge to me will help me reach my personal fundraising goal of $2,000.
To learn more about the Walk a Mile in her Shoes Campaign, please visit the YWCA's
webpage..
If you want to help break the cycle of family violence and help keep women and children safe, you too can register and join the walk at Churchill Square on September 11.
Lastly, I would like to challenge the men in my industry to take a stand against family violence. If you own a wine or liquor store, a licensed establishment or you are a liquor agent, please join me in this cause. I would love to see your male competitive spirit top my own fundraising goals. To you, I throw down the gauntlet! Are you man enough to stand up to me, in heels!

We look forward to seeing you September 6th.