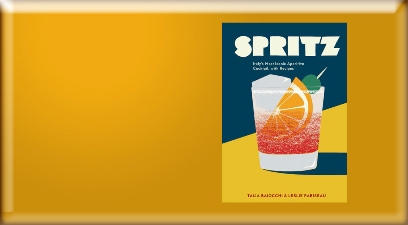 Author: Dirk Chan
Cocktail culture is seeing a major revival these days, with some of the most enjoyable things involved in sipping spritzes – the Italian wine-based cocktail commonly served as an aperitif in Northeast Italy. The drink is prepared with prosecco wine, a dash of some bitter liqueur such as Aperol, Campari or Cynar and then topped off with sparkling mineral water. It is usually served over ice in a lowball glass (or sometimes a martini glass or wine glass) and garnished a slice of orange, or sometimes an olive, depending on the liqueur. Some have even started substituting real Champagne in place of Prosecco.
Whether its nibbling from little bowls of stuffed olives, pesto or potato chips etc, and watching time pass by, spritz is the way to go."Spritz", the book is the perfect introduction to this kind of culture – the book is compact, nicely illustrated, and filled with anecdotes and recipes for classic fizzes as well as more modern iterations from top bartenders. It even has food recipes for pairing.
With Christmas not so far away, this would be a wonderful gift idea and its already flying off the shelves.
Random House "Spritz" – $24.99