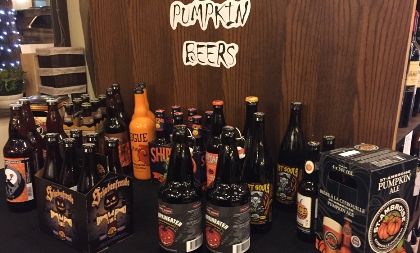 Author: Chad Gascho
Once again, we've approached that time of year when everything goes pumpkin! Pumpkin glazed doughnuts, pumpkin spice lattes, and of course, our favorite here at deVine…pumpkin beer.
Documented use of pumpkin in brewing beer has been occuring for roughly 400 years, predominantly in the U.S. and Canada due to the pumpkin being a plant native to North America. In earlier centuries, pumpkin was more easily acquirable than the other grains typically used for malt, and many a brew was concocted using 100% pumpkin flesh as the fermentable sugar.
The 18th century was the most popular time for pumpkin beer, but as decades passed, it's prevalence waned as pumpkins became perceived as old fashioned and unsophisticated. Further, it became more 'run of the mill' to have access to quality malts in the 19th century. Since then, the use of actual pumpkin in brewing has lessened, and generally given way to the use of the spices that are used in making pumpkin pie (i.e. nutmeg, cloves, cinnamon, star anise, ginger) that reminds us of Fall and the familiar flavours of Thanksgiving desserts. Although the pumpkin pie style of brewing pumpkin beer is usually more popular, there are still breweries that use the flesh and meat of the pumpkin itself to make more of a 'true' pumpkin ale.
Here's a few we think you'll enjoy:
1) St. Ambroise Pumpkin Ale (Quebec, Canada) – $11.99
A well-crafted blend of blond and caramelized malts, gentle hops, cinnamon, ginger, nutmeg, cloves and pumpkin. It's delicate malty character and hint of sweetness will quench the thirst of any creature looking for easy-drinking refreshment.
2) Rogue Pumpkin Patch Ale (Oregon, United States) – $15.49
Rogue picks their pumpkins fresh from the patch, loads them on a truck, and drives them 77 miles to the Newport, Oregon brewery, where they are roasted and then pitched into the brew kettle. Delicious notes of orange peel, cinnamon, cloves, cardamom, vanilla, ginger & nutmeg compliment the malty pumpkin backbone.
3) Yukon 'The Angry Hessian' Pumpkin Spice Ale (Yukon, Canada) – $8.49
Yukon brews this ale with 60 kg of pumpkin, as well as molasses, demerara sugar, crushed cinnamon sticks, pureed ginger, crushed whole cloves, and whole nutmeg – and oats for body. The result is pretty much pumpkin coloured, and very smooth and creamy. Close your eyes at the nose and you'll think there is a slice of pie on a plate in front of you, but when you fill your mouth, the perception is more like pumpkin cheesecake, full of delicious flavour and mouthfeel.
There are many more pumpkin offerings already in the store such as
Smuttynose Pumpkin Ale (New Hampshire, United States) – $25.99
Howe Sound Brewing Pumpkineater Imperial Pumpkin Ale (BC, Canada) – $11.49
Alley Kat Pumpkin Pie Spiced Ale (Alberta, Canada) – $12.99
Fernie Brewing Pumpkin Head Brown Ale (BC, Canada) – $7.99
Canuck Empire Pumpkin Patch Ale (BC, Canada) – $6.99
Epic Brewing Imperial Pumpkin Porter (Utah, United States) – $10.99
Phillips Toothless Pumpkin Sour Ale (BC, Canada) – $8.99
Shipyard Signature Series Smashed Pumpkin Ale (Oregon, United States) – $10.49
Olds College Jack Olds Lantern Barrel-Aged Pumpkin Ale (Alberta, Canada) – $9.99
Phillips Crooked-er Tooth Imperial Pumpkin Ale (BC, Canada) – $8.99
Salute!