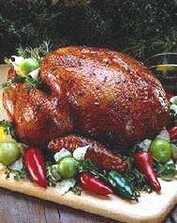 Author: Dirk Chan
Thanksgiving is in a few days, so here are some Turkey friendly wines for that special dinner:
Bubbles:
1) NV Reversanti Prosecco – $16.49 – a deVine bestseller over the last year, the momentum continues unabated for this Prosecco.
2) NV Langlois-Chateau Cremant de Loire – $26.99 – from the Bollinger house (the one James Bond drinks), this Cremant is given the same careful attention as the Bolly's, great price for the quality.
3) Raventos i Blanc Cava de Nit – $29.99 – handcrafted Rosado from one of the most prestigious Cava makers from Spain, organic and beautifully nuanced.
4) NV Veuve Clicquot Yellow Label La Fridge Brut – $71.99 – great packaging, La Fridge keeps a bottle of Veuve at serving temperature for up to two hours. The great yellow label brut that's instantly recognizable throughout the world.
5) 2000 Taittinger Comtes de Champagne – $244.99 – a class act, made from 100% Chardonnay, superb in every sense. No need to go after the $300+ ones when you can have this one.
Whites:
1) 2009 Chai du Grand Vaudasniere Vouvray – $21.99 – an amazing Chenin Blanc that is slightly off-dry but would be amazing with the turkey and the fixings, fab orange blossom nose.
2) 2010 Belland-Chapuis Le Vallon Sancerre – $34.99 – very impressive Sauvignon Blanc for those who want a dry white, more minerally than overtly fruity, everything in its place.
3) 2009 Egon Muller Mosel Scharzhofberger Riesling Kabinett – $54.99 – Sweet Riesling from one of the most sought after houses in Germany. Expensive but easily worth the tariff if you want the best.
4) 2008 Ridge Monte Bello Chardonnay – $74.99 – for the Chardonnay lover who wants something top drawer. Finesse, butter, slate and apple & pineapple notes galore. Big white.
5) NV Domaine de la Vinconniere Pinot Noir Rosé – $16.99 – a great price for a fine bottle of pink that would go with turkey extremely well. Fruity, yet has some structure from the Pinot Noir grape.
Reds:
1) 2010 Domaine Bulliat Morgon Cuvee du Colombier – $21.99 – Beaujolais is always a great choice for Turkey dinner, here is a new producer that has made a Beaujolais Cru with stone fruit aromas, a lovely crimson color and tasty clean fruit. And organic too.
2) 2011 Don Rodolfo Pinot Noir – $15.49 – great varietal character in this inexpensive best seller. Strawberry & cherry fruit.
3) 2010 Hamilton Russell Pinot Noir – $54.99 – from one of South Africa's best producers, there is terroir and character to this Pinot, very French yet speaks from the South Africa language.Lovely with a gentle decant.
4) 2009 Louis Jadot Beaune Boucherottes 1er Cru – $59.99 – from the stellar 09 vintage, this is a Premiere Cru worth tasting young as it hasn't closed down yet. Vibrant, fruity and svelt, a gentle decant would open it up marvellously.
5) 2007 Bodegas Carchelo Canalizo – $44.99 – here is something more full-bodied from Spain, with spice, earch, pepper, and cherry notes from its mix of Syrah, Monastrell and Tempranillo.
6) 2006 Leonetti Merlot – $99.99 – for those who insists on something big, here is lovely, velvety Merlot in its drinking prime.
7) 2006 Rolf Binder Hanisch Shiraz – $139.99 – finesse based Shiraz from one of the great vineyards in the Barossa. Dense yet inviting.
Dessert:
1) 2011 La Spinetta Bricco Quagia Moscato d'Asti – $25.99 – slightly spritzy, perfume nose and light as a feather – pair with strawberries & cream or a fruit flan – yum!
2) 2001 Chateau de Fesles Bonnezeaux – 375mL – $54.99 – world class dessert wine with orange blossoms, stone fruits, roasted nuts, honey and beeswax and stellar balance.
3) 2001 Chateau Lafaurie-Peyraguey – 375mL – $94.99 – mind-blowing right now, with an smorg of stone and tropical fruits. Full-bodied, oily, spicy and extremely long. Singing at a high pitch indeed. Serve slightly cold only. Nectar for the gods.
Port:
1) 1965 Messias Colheita – $119.99 – great nutty and creme brulee notes, pair with blue-veined cheeses.
2) 1999 Sandeman Vintage Port – $34.99 – the giveaway port of the year. Earlier drinking and it is drinking splendidly. A fraction of what other VP's costs. Highly recommended.
3) 1991 Graham's Vintage Port – $121.99 – 21 years young and drinking well. Pair with Stilton and roasted nuts.
Happy Thanksgiving everyone.
Shop early for best selection.