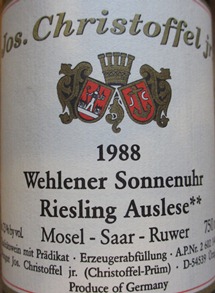 Author: Dirk Chan
This coming Saturday, October 13th is the second of two Top Drops: German Rieslings. This time, we'll focus on the famous regions of the Mosel, Mosel-Saar-Ruwer and the Rheingau, where many famous producers reside.
Full-bodied, and perhaps less minerally than the Nahe that was previously featured in a March Top Drops, this one will showcase a totally different fruitier style of Riesling
with bolder flavors, some diesel qualities and rich ripe abundant yellow stone fruits.
Featured will be the wines from the legendary and most expensive German producer Egon Muller along with other notables including Joh J. Christoffel that many of you are familiar with and for dessert, there will be a rare Beerenauslese from Reinhard Beate Knebel. All three top drawer producers.
For those of you who have not had your German Riesling epiphany, this is your chance to acquire this feeling. We will be serving interesting food pairings to showcase the versatility of the grape. Hurry and register for this small and intimate sit-down tasting for 18 people. Book your spot here..

Check out our many other upcoming special events at: http://www.devinewines.ca/events.html