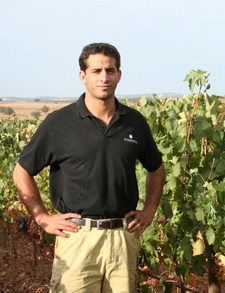 Author: Annabelle Evaristo
We've been planning for quite some time a glorious week of celebration of the wines of Portugal which begins with the Portuguese Wine Festival on Tuesday, November 13th at deVine's from 7pm to 9:30pm!
Winemakers and/or winery representatives from several Portuguese wineries will be here to talk wine with you on a personal level. Sample over 20 different wines, beers and liqueurs which will be served by the representatives. Not very often will you have an opportunity to rub shoulders with this many winemakers. To make it even more enticing, all in-stock Portuguese wines will be discounted 10% that evening for the attendees of the festival.
Tickets are $30 each and can be order by phone – 780-421-9463 or online here..
Feature Winery – One of the feature wineries at the festival is Fita Preta Vinhos and co-founder and enologist Antonio Macanita. Producing "highly individual wines with a distinctive Portuguese character" has been the motto of Macanita and co-founder David Booth (who unfortunately passed away suddenly earlier this year).
The winery is located in the Alentejo region, a large province in the south of the country, lying between the cool waters of the Atlantic Ocean and arid interior of southern Spain. The combination of poor rocky soils and the 3000 hours of sunshine per year, low summer rainfall ensure grapes mature fully producing wines that have a distinctive fruit character and represent a true expression of the terroir.
Macanita has worked with leading wineries around the world (Merryvale and Rudd in Napa, d'Arenberg in McLaren Vale, and Chateau Lynch Bages in Pauillac). Please join us next tuesday and sample several Fita Preta wines, and to say hello to Antonio, one of many winemakers at deVine's that evening.
A Winemaker's Dinner with matching wines will then be held at Sabor Divino on Wednesday, November 14th – book your tickets here.., followed by the very popular Annual Roy Hersh Port Tasting at the Royal Glenora Club on Friday, November 16th (already sold out). Please make every effort to join us for one or all of these events during this festive week in celebration of Portuguese wines and culture.
Much more details to come..