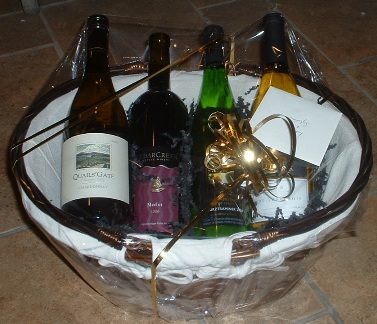 Author: Dirk Chan
deVine's offers all of your Christmas gifting needs. Pictured is a gift basket of wine. You can customize your basket by adding stemware or other sundry items. Many styles of baskets available and the wine possibilities are endless. Do give us some lead time to wrap.
For those who want sampler packs that offer a taste of a larger variety, we have three offerings:
1) the Twelve Days of Christmas Beer Sampler – $91.17 with a focus on seasonal holiday season releasesl . Only 40 cases available so grab yours while supply lasts. Some of the beers in this package is already out of stock at the government warehouse.
2) the December's Mixed Case – $208.84 is an eclectic mix for everyday drinking with several wines suitable for the traditional Christmas turkey dinner.
3) the Wine Spectator magazine issues their Top 100 wines every year around this time. This year, we're offering a mixed case of nine wines that made the grade in 2012, plus one from 2011 and two wines from 2010 to complete the mixed case. The Wine Spectator Top 100 Mix Case – $299.39 would serve as wonderful Christmas presents, have your own Spectator tasting or enjoy these highly regarded wines for yourself at your leisure.
We have also just received many nic nacs that would be great as stocking stuffers, new Riedel and Schott Zwiesel stemware and much more, drop by the store to visit if we can be of any assistance.
Happy shopping everyone.