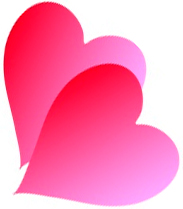 Author: Dirk Chan
Valentine's is a special day and we've written in our latest blog several appropriately named and love themed related wines to share with that someone special.
1) NV Rolet Crémant du Jura Brut Rosé (Jura, France) – $24.99 – lovely earthy pink bubblie to start the evening, pair with caviar or oysters
2) NV Devaux Brut Cuvée Rosée (Champagne, France) – $72.99 – the real thing, French Champagne, drinking marvelously.
3) 2004 Veuve Clicquot Ponsardin La Grande Dame Brut (Champagne, France) – $254.99 – For those who want high end Champagne, this lovely lady is for those who want the best.
4) 2011 Ochoa Rosado Garnacha (Navarra, Spain) – $16.99 – for those looking for a still pink, great alive color, fine to pair with appetizers
5) 2010 Hexamer Meddersheimer Rheingrafenberg Riesling Spatlese (Nahe, Germany) – $37.99 – a sweet white for your sweetie – pair with lobster
6) 2010 Domaine les Cotes de la Roche Saint Amour (Beaujolais, France) – $22.99 – St. Amour, a cru beaujolais. Try with something spicy like Thai food.
7) 2010 Bodegas Sierra Norte Pasion de Bobal (Valencia, Spain) – $17.99 -. 'Pasion' is made from the little known Bobal grape, rich and velvety. Lovely label of tree with heart-shaped leaves…
8) 2010 Fita Preta Sexy Tinto (Alentejo, Portugal) – $19.99 – 'Sexy' speaks for itself, incredible packaging and the wine is also great.
9) 2010 d'Arenberg The Love Grass Shiraz (McLaren Vale, Australia) – $26.99 – Gorgeous label design appropriately named. Full-bodied shiraz.
10) 2011 Some Young Punks Passion Has Red Lips Shiraz-Cabernet (South Australia) – $25.99 – Full bodied, passionate red of spicy and dark ripe fruit.
11) 2011 Quady Elysium Black Muscat – 375mL (California) – $13.99 – Heart-shaped label is followed by a lovely raspberry, blueberry note perfect for pairing with dark chocolate.
12) 2001 Château Lafaurie-Peyraguey – 375mL (Bordeaux – Sauternes, France) – $94.99 – for those looking for a sweet dessert wine to pair with fruit based desserts.
13) 2011 Michele Chiarlo Nivole Moscato d'Asti – 375mL (Piedmont, Italy) – $13.99 – smells like Chanel No.5, light as a feather, sweet and heavenly pairing for fresh strawberries & cream
14) Phillips Longboat Chocolate Porter – 650mL Bottle (Canada) – $5.99 – for those looking for a different alternative to a chocolate pairing.
Please contact us if you have special needs in selecting specific wines that would make your Valentine's Day memorable.
Happy Valentine's everyone!