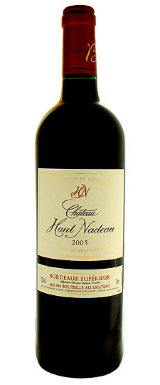 Author: Dirk Chan
The 2010 Bordeaux vintage is another stellar one. Following the footsteps of the great 2000, 2005, and 2009's, that's four legendary vintages since the new millenium. As usual in a great vintage, the so called lesser wines or Petit Chateaux offer great value and we've received the first of these, a perennial deVine favourite, the Chateau Haut Nadeau – $22.99, a Bordeaux Superieur from Entre Deux Mers.
The 2005 and 2009 were favourites with our customers and the 2010 may be the best of this trio. 55% Merlot, the rest a mixture of CabSau and CabFranc. Lovely floral, raspberry and black currant nose, a stellar velvety mouthfeel from the Merlot, and a lingering dark cherry finish. You could lay this down short-term (2-3 years) or its also lovely now with an hour's decant and a pairing with a roast leg of lamb. Gold medal winner at both the Concours de Bordeaux and Vins d'Aquitane fairs of 2011.
We've had quite a few huge Best Bang for the Buck wines lately, and the Haut Nadeau is another one to stock up by the case.