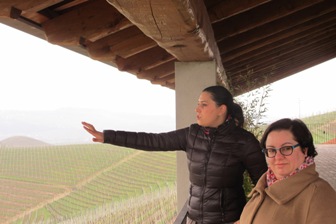 Author: Dirk Chan
Today, a short fifteen minute drive up and around the winding roads from Alba to Barbaresco, home of this great Nebbiolo based red, to visit Bruno Rocca whose Barbera's and Barbaresco's have adorned our shelves. There was a chill in the morning air, and while overcast, there was none of the famous fog, we had a beautiful view of the region. We met Bruno briefly (recovering from a ligament injury) as well as son Francesco, and then was led through the vineyards and the cellars by daughter Luisa, the PR mastermind who travels the world promoting this relatively young estate (1978).
We tasted through the entire range of their wines, and were impressed with the common house style of elegance and expression of terroir. The range includes only one white, a well balanced Chardonnay 2012, while others tasted include the 2012 Dolcetto, while both the 2010 Barbera d'Alba and Barbera d'Asti were impressive. However, without doubt, the estate is known for their Barbaresco's, with the generic 2009 Barbaresco showing extremely well for a wine so young, while the 2009 Rabaja and Coparossa Barbaresco's were supremely elegant and arresting. Finally, the 2008 Maria Adelaide (named after Bruno's mother), the flagship selection made only in the very best years from hand-selected parcels deemed worthy for a special release by Bruno himself – it was bold, structured and obviously long-aging and indeed special. This family ran estate is clearly doing everything right in their aim for excellence, and runs a tight ship given the small overall production – and the wines clearly show the work done at the vineyards and their focus on true varietal and terroir expression.
Never appreciated how tiny Barbaresco is as a region is. A great run of vintages here with 2008, 2009, 2010 and 2011 all looking to be extremely fine. Pictured above is Luisa and Annabelle overlooking the famed Rabaja cru (only four producers share this name). Listed below are the current available Bruno Rocca wines currently available at the store.
2009 Bruno Rocca Barbera d'Asti – $32.99

2008 Bruno Rocca Barbaresco – $64.99

2008 Bruno Rocca Barbaresco Rabaja – $109.99