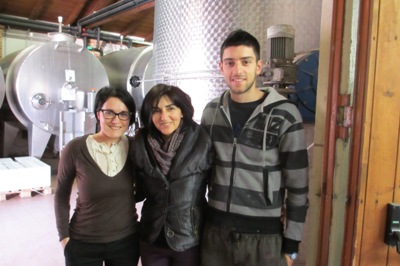 >Author: Dirk Chan
Roero is not the region most people talk about when referring to the Piedmont, that honor belongs to Barolo. However, this region, in the south of the Piedmont offers fine value in Arneis and Nebbiolo. While archeologically younger than the other regions, its sandy soils allow the region to make Nebbiolo that are much more approachable and does not require the decades of cellaring that Barolo and Barbaresco does. Today, we visited Matteo Correggia Winery, one of the top producers of the area.
In 1985, as a 23 year old, he took over his father's land and made his first vintage in 1987. He had vision for producing great wine in this region, but fate took him in a tragic winery accident in 2001. His wife Ornella (pictured above in the middle), young son Giovanni and Sara Palma, amongst others in a tight family unit, have carried on Matteo's tradition and vision and done great things at this 20 hectare estate.
Sara gave us an extensive tour followed by a tasting – we were impressed with their Arneis (a white grape that is fast gaining popularity with the wine world for its flowery florals and freshness), the Barbera d'Alba Marun (with vevelty tannins and a saline finish), the Nebbiolo Le Val dei Preti (translated as the Valley of the Priests) and the Nebbiolo Riserva Rocche d'Ampsej (from 25 year old vines), oh so smooth and sophisticated. The common thread was quality fruit, non-interventionist philosophy, very smooth palate for current or near-term drinking. While this estate is not yet represented in Alberta, we look forward to its arrival soon, and with anticipation. More pictures on next page..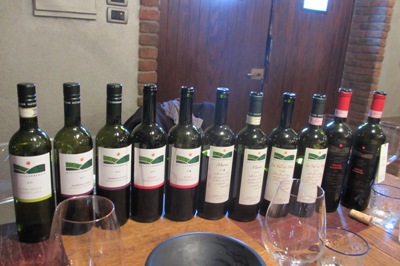 Tomorrow, a visit to Brovia…