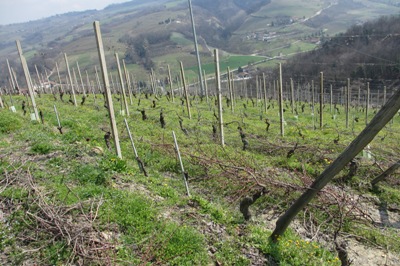 Author: Dirk Chan
Another special visit, this time at the historic (founded in 1863) Brovia Winery with Export Manager Alex Sanchez in Castiglione Falletto in deep Barolo territory. Alex is married to Elena Brovia, who along with her sister Cristina manage this impressive estate. With superbly situated sites such as the Rocche (pictured above) and Villero vineyards, both with distinguished tradition, it is easy
to see why Brovia has been gaining more and more international press, especially over the last decade.
After a visit of winery and cellar, Alex tasted with us a very strong set of wines. Some of our favourites
included a perfumy 2012 Arneis, a very fine 2010 Barbera d'Alba Sori de Drago (great clovey berry fruit) that has fine structure. Without doubt though, the set of 2009 Barolo's were even more special, all showing a rather sensual earlier drinking style. The Rocche (aromatic and velvety), Villero (structured and complex) and Ca Mia (minerally) all showed their distinctive vineyard styles. We ended with a mesmorizing 2008 Barolo Villero (this wine has scored 94 points or higher from The Wine Advocate magazine every vintage since 2004). We then ended with the 2005 Barolo Riserva (only available in magnums) which is being released as a special 150th anniversary tribute.
The house style is pure, elegant and complex, with an identity to the land and we look forward to their
arrival at deVine's for you to taste for yourself.
Pictured above, the famous Rocche Vineyard.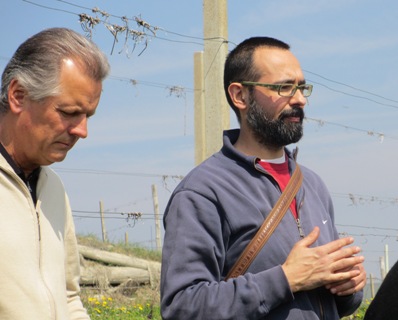 Pictured above, Michael Shuster of International Cellars Inc. and Alex Sanchez(right) of Brovia.
Next up, a visit to Vietti.