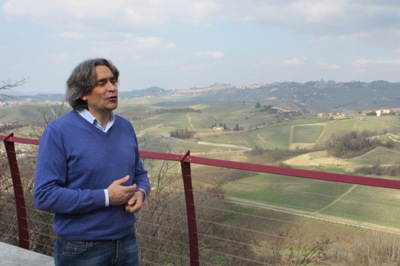 Author: Dirk Chan
Vietti has a long and distinguished history in the Piedmonte, dating back to the 19th century – the winery located in the quaint town of Castiglione Falletto. With Luca Currado (pictured above overlooking his massive vineyard holdings) at the helm, the winery continues to thrive. Luca has strong opinions about Barolo, winemaking and biodynamics that is a pleasure to hear.
A visit to the cellars included fascinating historical facts – we saw an ancient escape route that led from the castle to the town, some Napoleon bottles, some hidden cellars that kept bottles from German invaders, and a history on the customized Artists labels that adorn numerous Vietti bottlings – all very fascinating.
Back at the tasting room, we sampled no less than 24 wines, all incredibly balanced and pure. The 2011 Barbera d'Asti Tre Vigne (very floral), the 2010 Langhe Perbacco is earlier drinking (minerally), the 2010 Barbera d'Alba Vigna Scarrone (white pepper, white flowers) were all beautiful. We also had the rare privilege of tasting bottled samples from various vineyard sites that will eventually make the final blend for the 2010 Barolo Castiglione. These included individuals tastings of the Rocchette, Ravera, Bricco Fiasco, Scarrone, Fossati and a mix – a fascinating exercise. We even blended our own.
The great 2010 Barolo's finished off the tasting, with highlights including the usual suspects – Rocche, Lazzarito and Brunate all future greats. There was also the 2010 Ravera Riserva that I have not seen (last made in 1999), and a 2010 Villero Riserva (with cool climate feel) too. We proceeded to dinner and drank some old Vietti Barolo Rocche, the highlights being a ready to drink and complex 1989, a still young but very fine 2001, and the very special 1995 that was explosively good (alongside a lot of Champagne). What great hospitality that was appreciated by our travelling group.
Luca will be visiting Edmonton in late May or early June, and we look forward to his visit with great anticipation.
Next up, Elio Grasso..