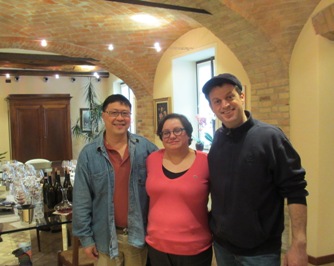 Author: Dirk Chan
We had a lovely visit to the Elio Grasso estate in the Langhe hills of Alba, where the estate's 14 hectares are under vines. We visited with Gianluca Grasso (pictured), son of Elio where it was bottling day and it was fascinating to see Gianluca overseeing the assembly line.
We did a lovely winery tour (see picture of the architecturally superb cellars when you click 'read full article' that reminded me of a high tech James Bond tunnel car chase). A lot of money and time has been spent at this estate and the wines show. We tasted the 2012 Dolcetto d'Alba dei Grassi (that we saw being bottled), very clean and cherry and cranberry notes. The 2012 Langhe Nebbiolo saw a long season with no removal of canapy leaves. The 2010 Barbera d'Alba Vigna Martina had lovely notes of peach, balsam yet surprisingly structured for a Barbera.
Of course, we're in Barolo territory, and we tasted the 2009 Gavarini Vigna Ciniera (clean and precise, perfumy, soft and velvety tannins. Quite approachable. The 2009 Ginestra Vigna Casa Mate had perfume, spices and will require easily a decade in the cellar.
Then to the Barolo Runcot Riserva's, the 2007 was very complex aromatically with coffee, herbs yet very balanced and fresh. The 2006 will be a great great wine down the road – fine acidity and chalk like tannins behind abundant ripe vanilla-tinged fruit, the long tea finish quite superb. Finally, a treat of the 2000 Runcot Riserva, with archtypical aging, savory spices, mushrooms and autumn leaves, superb!
With a focus on true terroir expression, and first and foremost dedicated farmers, it is no wonder the wines of Elio Grasso have garnered so many fans in Western Canada, including yours truly.