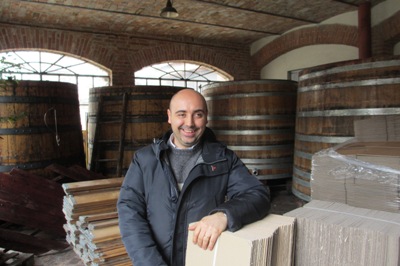 Author: Dirk Chan
The Burlotto family is one of the oldest and most famous historic producers of Barolo, dating back to Commendatore Giovan Battista Burlotto (1850-1927), having achieved great fame as a winemaker (his wines were served to royalty). There are some great artifacts at the winery of his decoration and achievements including the pioneering of selling Barolo in bottle rather than cask. Today, his great-great grandson Fabio Allessandria is the winemaker here. The estate is located in Verduno, a commune in the Province of Cuneo in the Piedmonte area, only 50km SE of Turino.
We had a cellar visit with Fabio (the entire property is undergoing a major renovation) before our grand tasting which started with the 2012 Sauvignon Blanc – this had a lovely gooseberry character that jumped from the glass, very classy mouthfeel. The indigenous 2011 Palaverga was arresting – Palaverga is an ancient grape indigenous to the Verdouna area, i'd say a Pinot Noir like density and a light, slightly deeper than a rose in color, but wow, what great florals, an unique startling white pepper nose, some bacon fat alongside fresh strawberries, this is a most interesting and great wine that can be served chilled ala picnics, yet with enough stuffing to work with red meats like pork or beef. Unfortunately, not much history is known about the origin of the grape. The 2011 Dolcetto d'Alba offered up fresh flowers, and a seamless cherry palate, while the 2011 Barbera d'Alba was one of the wines of this tasting – violets, velvety, finesse and svelt tannins that screams 'drink me now'.
Onto the Barolos, the 2009 Barolo from a blend of fruit from various vineyards had raspberry and strawberry notes, yet the smooth tannins make it already very enjoyable and restaurant friendly. The 2009 Barolo Acclivi (meaning 'slope') was made from a selection of the best Nebbiolo from his Verduno vineyards and serves as a Riserva bottling – a more serious red – here the tannins are a little bit more pronounced indicative of bottle aging potential. The 2009 Barolo Monvigliero with intense strawberry notes, noticeable lighter than the others in color, yet so delicate giving off an intriguing olive note alongside grippy tannins and quite superb. The ageworthy 2009 Cannubi is definitely more earthy, yet has a Nuit-St. Georges Burgundy rustic feel and sheer class about it.
All in all, Annabelle and I were very impressed. With extensive renovations ongoing, I can see even greater things down the road. We are hopeful of perhaps getting some of Burlotto's wines into our store at some point because the finesse and class is obviously besides offering up an excellent quality price ratio too, something we all want in a wine.

Next up, Bersano..