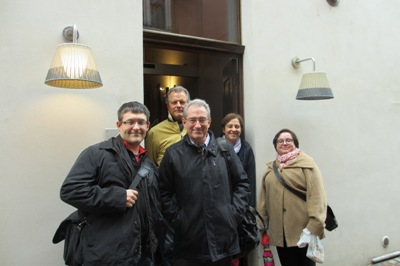 Author: Dirk Chan
The Bersano winery dates back to the end of the 19th century in Nizza Monferrato, the heart of the Barbera d'Asti district in the Piedmont. Arturo Bersano founded the winery based on the motto "If you want to drink well, buy yourself a vineyard". While it's hard to do that nowadays, their 230 hectare holdings (in Barbera d'Asti, Barolo, Barbaresco and Gavi) produces enough wine for all wine enthusiasts to enjoy. They are the largest privately owned grower in the Piedmont.
Carmen Pergola, the Export Director for 20 years at Bersano and a member of the famed Donne del Vino (The Women of Wine) met us for lunch before visit the estate. First, a tour of the Museum of Old Farm Tools, a pretty walk among old wine barrels, presses, hoes, ploughs and trains. The Fine Wine Prints Museum showcased a marvellous collection of old wine labels, maps, views of castles. The jewel though was the "Pomona Book", the first book detailing the complete collection of grape varieties in Italy dating back 1817.
Carmen tasted us through several wines from Bersano's huge portfolio, including the 2012 Cortese with beautiful Moscato like nose of white flowers in a dry context. The 2012 Gavi was more complex with lovely peaches and pineapples. The 2012 Barbera d'Asti with a charming personality, clean cut and made for young consumption. The 2011 Barbera d'Asti Costalunga was a big hit from their 'Classic' line – roasted meats, beautiful concentration and balance with a fruity cocoa finish. The 2008 Barolo Nirvasco is made from fruit from Serralunga, La Morra and Monteforte and showcased barbecue meats aromatics, spice and leather, again easy earlier drinking style. At VinItaly, we tasted the 2009 Barolo Badarina, with intense fruit, blackberry and balsamic notes, for mid-term drinking. Finally, the 2012 Moscato d'Asti Monteolivo was less sweet than most, with a saline finish amidst acacia flowers, delicate sage , peach and lemon notes – a great way to end a tasting.
What a treat Carmen was, and we thank her for her generous hospitality and more importantly her time (spent away from her young son). We will have some Bersano wines in the store soon, and we are hoping Carmen is able to visit Edmonton in late September when we can set up and dinner/tasting with one of the great women of Italian wine.
Pictured above, our travelling group consisting (left to right) of Peter Rae, Michael Shuster, Norman Gladstone (all of Internatioinal Cellars), Carmen Pergola and our own Annabelle Evaristo.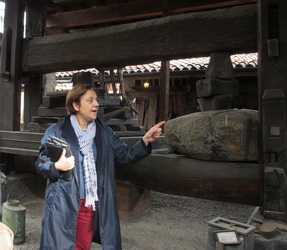 Pictured above, Carmen at the Museum of Old Farm Tools.
Next up, our VinItaly visits beginning with Bellavista..