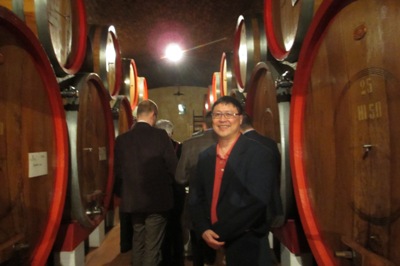 Author: Dirk Chan
Amidst the hoopla of VinItaly, through agent Serge Levesque of Longo & Sincini,
Annabelle and I were invited to a special dinner at the Tedeschi Winery in Veneto.
The Tedeschi family has owned land in the Valpolicella region going back to 1630
with winemaking since 1824. Since then five generations have continued the stellar work.
Today, this medium sized estate is ran by Riccardo, Winemaker and Export Director along with his sisters Antoinette and Sabrina (who graciously drove Annabelle and
myself to their winery home – I must say she is a great driver to successful negotiate the traffic
out of Verona).
The multi course dinner for 45 invited guests was wonderful, set right next to the cellars (that's me
queuing for the self served cheese course amidst the huge wood barrels). We sampled numerous wines from the portfolio – I was surprised how well the San Rocco and Amarone went with beef, while the Monte Olmi was great with cheese. The dessert course was paired with the very unique Vin de l Fabriseria, a Vino Passito, made from Garganega and Saorin white grapes done in the same raisin-dried style – delicious and hopefully to arrive in our market soon. The consistent theme of the wines was clearly indicated from the winery motto – "be as good as possible, but also as personal as it can be, while letting nature lead the way."
Riccardo is once again coming to Edmonton in the summertime, and we look forward to his visit. We've carried the Tedeschi line ever since the store opened, and in stock currently for your consideration are:
2010 Tedeschi Soave Classico – $17.99
2010 Tedeschi Valpolicella Superiore – $18.99
2007 Tedeschi Ripasso Superiore Capitel San Rocco – $25.99
2007 Tedeschi Amarone della Valpolicella – $49.99
2005 Tedeschi Capitel Monte Olmi Amarone della Valpolicella – $84.99. The 2007 Olmi just received 94 points from the Wine Spectator, we await its arrival in the fall.
You can visit the Tedeschi website here..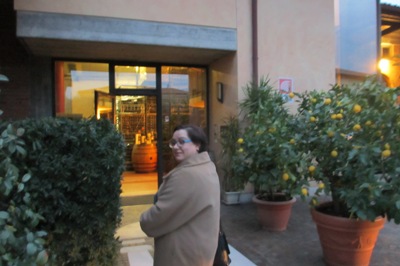 That's Annabelle at the entrance of the winery. Note how big the lemons are already on that lemon tree!