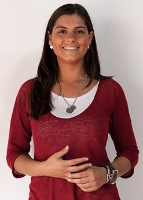 Author: Dirk Chan
You are invited for a free drop in tasting of Portuguese wines on Tuesday, May 7th with Mariana Rocha Ferreira, Export Director of Vinihold, one of the biggest suppliers of deVine's Portuguese portfolio.
Mariana was born within a noble port family of the Tabuaço region where her great-great
grandfather was Mayor back in the old days. Her mother's family – the Macedo Pinto's, were the owners of Quinta de São Pedro das Águias where they produced both port and olive oil.
Mariana has a Bachelor of Business Administration and worked for a multinational dairy company in Porto. After a few years, she took a Master's degree in Hospitality Management in Spain, where she graduated with honors and top of the class. At this time she was already in a relationship with Fernando van Zeller, whom she knew since she was in elementary school and whose family was very dear and well known to her own. Mariana is a fascinating lady so we hope you can drop by and visit with her this Tuesday.
Houses represented include Barao de Vilar, Quinta de Maritavora, Quinta de Mimosa, Quinta da Lixa and Casa Ermelinda. Please visit with Mariana from 5:30pm to 7pm to talk and sample wine. Note this is a drop-in tasting, no advance registration is required.
More details on this event here..