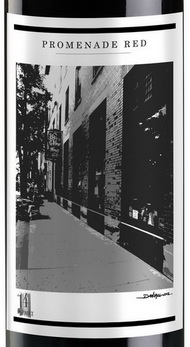 Author: Dirk Chan
deVine's first ever custom wine has arrived! A year in the making, it is named the "Promenade Red", in the spirit of the 104th Street Promenade. We're thrilled to have it in the store and are throwing a special launch party for this Spanish red on Saturday, May 18th coinciding with the opening day of the City Market. Please join us from 11am to 3pm
The label for the "2011 Promenade Red" is the product of local self-taught stencil artist Daniel Chmielewski, whom many of you know from his exquisite large scale monochromatic stencil works that he has donated in many Al Fresco auctions. Daniel will be on hand at the launch party to autograph bottles and we will be sampling the wine in this free, drop-in event.
The wine is made by Nathalie Bonhomme of Les Vins Bonhomme, whose Spanish red "Le Petit Bonhomme" has adorned our shelves over the last two years. She had one barrel (only 56 cases) of a special cuvée and thus the birth of our custom wine. The wine is a blend of 50% Monastrell (Mourvedre) and 50% Cabernet Sauvignon from the Valencia region in the Eastern coast of Spain.
Dark cherry in color with a nose of assorted red and black berries, plums and noble wood. Clean and precise on the palate, this serious red has lovely minerality, is medium-bodied mouthfeel with juicy ripe fruit flavors, fine acid balance and structured yet with soft tannins that makes it eminently enjoyable with a short decant now. Pair with roasted meats.
Visit the market and then come in for the special Promenade Red Launch Party on Saturday, May 18th from 11am to 3pm with artist signing and the sampling of the wine. We look forward to seeing you!
Our sincere thanks to International Cellars for brokering this wine for us!