Author: Dirk Chan
Annabelle, myself and our travelling companions Rob and Mary have arrived in Porto and our first visit today was at Taylor Fladgate & Yeatman in Vila Nova de Gaia where we were met by Ana Margarida Morgado in the
cellars of this venerable estate, founded in 1692.
In the cellars, we saw huge neutral vats storing the 2010 LBV, small barrels holding the reserves of
30 and 40 Year Old Tawnies and much more. Ana was most intriguing and knowledgeable, giving us a thorough view of the land, the history
and Taylor's port making philosophy. The 2015 harvest was finished this past weekend just before the rains came on
Monday (how's that for skirting danger). Some interesting tidbits – Taylor will continue to only
make port as it is the hundreds of years of port producing history that they want to preserve and
uphold – imagine the dilemma of choosing where to put your best grapes into port or table wine?
After the cellar tour, we tasted a great lineup of Chip Dry White Port, 10, 20, 30, 40 Year Old
Tawnies, the magnificent 1965 Very Old Single Harvest Port, finishing with the 2011
Vintage Port and 2012 Quinta de Vargellas Vintage Port.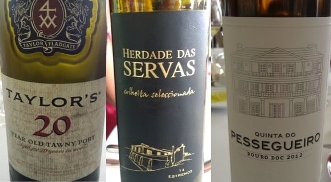 It is intriguing to taste
the five tawnies together in a
single flight, the increasing complexity says volumes to Taylor's mastery in blending and dedication
(each year having to clean out all barrels holding the tawniesand transferring the wines to cleaned barrels – imagine the labour and cost of doing this each and every year for 40 years for the 40 year old tawny).
The 1965 is astoundingly good, the caramel notes are so pure and the palate feel so smooth, it would be a very special present indeed for anyone turning 50 years old this year. As
for the vintage ports, the astounding
2011 VP is everything we thought it would be (buy all you can afford now as it is sold out at
the winery), a port for aging and improving for 4-5 decades easily. The 2012 Vargellas is
open for business now (enjoy before it closes down in the next 2 years), and excellent in its own
right and will age for two decades.
The fun continued with lunch at the Yeatman Gastronomic Restaurant – the extraordinary view of
the River Douro guaranteed the most spectacular scenery, and the food and service showcased why it
has a Michelin star award in the 2012, 2013, 2014 and 2015 Guides. We had a first class five course lunch, tasted a couple of producers we've not had before ending with a spectacular dessert paired with the Taylor 20 Year Old Tawny. BTW, the Yeatman Hotel is a dream, the views are out of this world – what a great day it has been!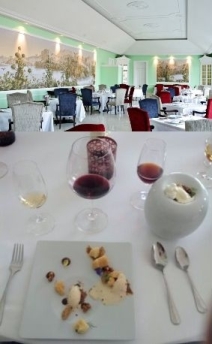 Pictured – With Ana Margarida Morgado in the cellars, wines we had for lunch at
the Yeatman Restaurant, and a fabulous dessert!
Some of the wines tasted today currently available at deVines:
Taylor Fladgate 20 Year Old Tawny Port – $64.99

2012 Taylor Fladgate Quinta do Vargellas Vintage Port – $84.99

2011 Taylor Fladgate Vintage Port – $139.99

1965 Taylor Fladgate Very Old Single Harvest Port – $279.99

Tomorrow, we travel to the Douro Valley to visit Quinta do Panascal (Fonseca) and Quinta do Roeda (Croft)…