Continuing our visits of Douro properties, we moved onto one of the store's best selling producers,
the family owned Quinta do Portal, located in the heart of the Douro Valley.
Quinta do Portal was established only in 1994, but this property has been in the Douro for much longer before that (first references date back to 1477). The family Mansilha Branco was instrumental in the original demarcation of the region in the mid 1750's. Today, owner Pedro Mansilha Branco runs the estate.
More than one hundred hectares are under vine, and the fruit is sourced from five high altitude ancient vineyards or quintas: Quinta da Abelheira, Quinta do Confradeiro, Quinta dos Muros (over a century old and escaped the Phylloxera carnage), Quinta do Portal and Quinta das Manuelas.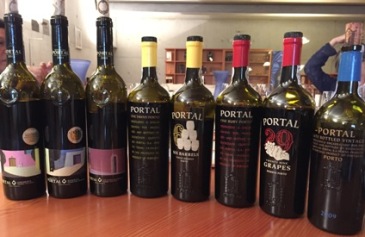 50% of the grapes of the production of the Quinta do Portal wines come from the company vineyards, the other half is purchased from growers in the Pinhao and Torto Valleys. Most of the vineyards lie at high altitudes for the Douro, so escaping the incessant summer heat, at least by night, and producing grapes that make their wines both fresh and elegant.
So in just a couple of decades, this estate has done incredible work fast-tracking them to success with world wide recognition for their ports and red wines. Our technical wine tasting consisted of:
Fine Tawny and Ruby Port (nice every day-er's), Six Barrels Tawny Reserve (delicatedly balanced with fine length), Six Grapes Ruby (vibrant and not too sweet), 2009 Late Bottled Vintage (very nice indeed), 2012 Douro Colheita (very close to the Wine Spectator Top 100 2011), 2011 Reserva (very fine and very much looking forward to its arrival in the store), 2009 Grande Reserva (pretty darn good from a difficult vintage). Later at dinner, we tasted their two top reds – the 2009 Auru, world class red consisting of the best Touriga Nacional and Tinta Roriz grapes (remarkably rich and well balanced), followed by the ultra-rare and limited non DOC 2012 Black Pur (made primarily of Tinta Roriz with some Cabernet Sauvignon and Malbec) – jaw dropping and one of the wines of the year for me!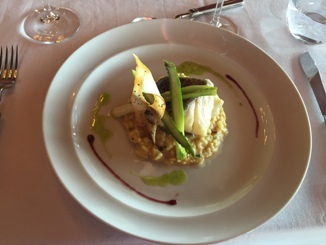 We stayed in their lovely hotel/guest house "Casa das Pipas" with stunning views and an lovely old world feel. The meals (dinner and lunch) were exquisite, we must praise Chef Milton Ferreira for Michelin quality dining. If you are ever in the Douro, you must stay here!
Winemaker Paulo Coutinho and owner Pedro Mansilha Branco has done a fine job raising the wines to a new level of quality with hard work and heavy monetary investment (a Siza Vieira designed warehouse) to upgrade the winery. We had a brief visit with Paulo who let us taste some Malbec and Touriga Nacional 2015 – this is a declared year in the making.
Available Portal wines at deVines:
Quinta do Portal Branco – $22.99

Quinta do Portal White Moscatel Galego – $29.99

2011 Quinta do Portal Malvis – $13.99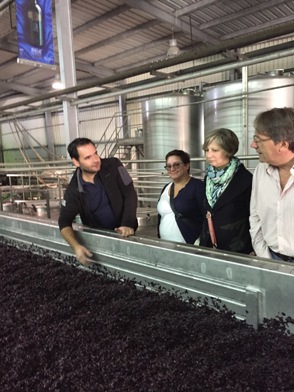 2012 Quinta do Portal Douro Colheita – $23.49

2010 Quinta do Portal Douro Reserva – $34.99

2009 Quinta do Portal Touriga Franca – $46.99

2007 Quinta do Portal Grande Reserva – $47.99

2009 Quinta do Portal Tinta Roriz – $49.99

2004 Quinta do Portal Reserva Moscatel – $34.99

1999 Quinta do Portal Vintage Port – $69.99

2011 Quinta do Portal Vintage Port – $69.99

Quinta do Portal 20 Year Old Tawny Port – $76.99

2003 Quinta do Portal Vintage Port – $76.99

1997 Quinta do Portal Vintage Port – $84.99

Quinta do Portal 30 Year Old Tawny Port – $104.99

Quinta do Portal 40 Year Old Tawny Port – $134.99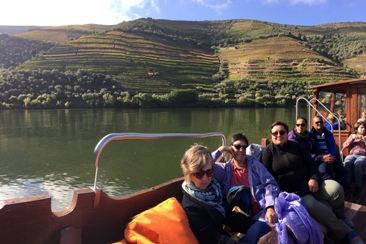 Before we left, we were treated with a boat ride on the Douro River (breathtaking way to see some of your favourite estates). Kudos to Tourism manager Manuel Januario – we were blown away with this visit, they treated us like kings and we are greatful for their time and hospitality.
Portal is fast becoming one of the giants of the Douro Valley for both Douro reds and Vintage Ports, and this visit confirms their continued ascendancy.
Pictured top to bottom:
1) In the cellars of Quinta do Portal
2) Technical tasting wines
3) A Chef Milton Ferreira salted cod creation
4) Tasting 2015's with winemaker Paulo Coutinho
5) Boat ride on the Douro River