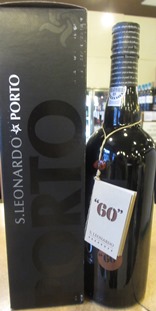 Author: Dirk Chan
With the help of our friend Roy Hersh from For the Love of Port, we have ordered through Flying Wines some very rare and collectible Tawny and Vintage Ports from the house Quinta do Mourão.
Most of you have not heard of this house before, the Braga Family has owned this estate since 1972, but its history dates back to the 16th century. Located just down the river and around the bend from Peso da Regua in the heart of the Douro's Baixo Corgo. Owner/winemaker Miguel Braga runs the show having taken over from his father Mario who originally purchased this property. They previously sold their fruit to the big houses, and in 1999 decided to market their own.
Roy has been pursuing this house for many years, and it is quite a coup for us to have the Mourão ports in Edmonton. This producer seems to fly under the radar, but makes some of the finest wood-aged Ports in the entire Douro region and the proof is in the pudding once you've tasted these.
The family owns four other Quintas, and the story behind the Sao Leonardo label on their wines refers to a viewpoint in the valley that stood in between two such Quintas. At the time of purchase, these were managed by the respective sons who would meet at this half way point between them, thus for tradition's sake, the label on the wines became S. Leonardo.
We've got for your consideration their 10, and their superb 40 and 60 Year Old Tawny Ports, as well as their Vintage Ports from 2000, 2007, and 2009. Please note quantities for all are extremely limited.
A few words must be said about the extra rare and quite extraordinary 60 Year Old Tawny, if such as thing were to exists – there is no official designation in Portugal for a 60 Year Old, so the label is technically 40, but with a tiny booklet and sticker of '60' attached to the bottle. Miguel's blend is 80% from the 1948 and 20% from his phenomenal "mother wine" from 1972.
Having tasted this at a recent gathering (where there was complete silence for a couple of minutes with attendees mesmorized and searching for accolades), this writer must rank it amongst the top three tawnies I've ever tasted, completely in line with the 1855 Taylor Scion that costs ten times as much as this. The palate is so long and persistent, it defies description, i half expected tears from someone in the room! Given the quality, the $460 price tag is a massive giveaway. Needless to say if you want something truly memorable, get this while we still have a couple of bottles for sale!
Here are the links to the available Mourão ports:
2000 Quinta do Mourao Sao Leonardo Vintage Port – $84.99
2007 Quinta do Moursao Sao Leonardo Vintage Port – $89.99
2007 Quinta do Moursao Sao Leonardo Vintage Port – $89.99
NV Quinta do Mourao Sao Leonardo 10 Year Old Tawny Port – $48.99
NV Quinta do Mourao Sao Leonardo 40 Year Old Tawny Port – $192.99
NV Quinta do Mourao Sao Leonardo 60 Year Old Tawny Port – $459.99