Author: Dirk Chan
More and more, consumers are looking for something unusual to liven up the wine experience. Thus, the trend is a noticeable demand on indigenous grapes, varietals that are grown only in certain specific wine regions. I'll talk about two whites and two red grapes, all deserving your attention. The Cabernet Sauvignons, Shirazes, Merlots, Pinot Noirs and Tempranillos still hold their pride of place, but they are getting challenges.
For example, the Torrontes hails only from Argentina – this fragrant, perfumy varietal reminds of Gewurztraminer, quite exotic and floral with rose water, lychee nuts and honey aromatically, but is tart and quite dry on the palate. Smells sweet but tastes dry, quite bipolar that way, but has been the rage at deVine for a year now.  Try one the next time you serve a salad, fish or chicken dish that has some fresh fruit on the side as accompaniment.
Ehrenfelser is a Germanic varietal created from a genetic blend between Riesling and Sylvaner, and while it has been dying out in Germany, it seems to have thrived in British Columbia where many wineries have plantings – perhaps the early ripening of this grape is favourable of Canada's shorter summers. Apricots, pink grapefruit, rose water are the characteristic traits on the nose while citrus, pineapple and honeysuckle are on the palate. Pair with spicy or hot foods like Thai or Indian.
Aglianico is a thick skinned red varietal grown in Campania in Italy not too far from Naples, where it is a major component in the Taurasi wines. Origins appears to be of Greek descent, producing a wine of deep red hue, fresh taste, fruity, well-balanced but abundant tannins and acidity, full-bodied and harmonic. A tremendous ager, the wine gains in delicacy over time, developing fragrances to be quite aristocratic, flowery yet spicy but with high minerality, ash, graphite and a certain dustiness that perhaps comes from the volcanic activity in the region. Surely one of the superstar red Italian varietals to be explored in the coming years.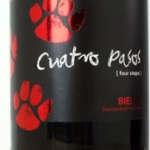 Try with grilled red meats.
Finally, the Mencia grape is grown only in Bierzo, northwestern Spain, producing a red that is floral like an exotic wildflower, with a licorice, spicy and good herbally quality on the palate with plummy red fruit flavors on the palate. Quite full-bodied and some are earthy so paired with hearty fare. Most of the plantings are over 40 years old, some doubling that in age, grown on high steep trellises.
Branch out and experience something different, and not widely grown anywhere else. Wine is about choices.
Take in the Naked Grape: Unconventional White Varietals:  phone 780-421-9463 or book online here.
2007 La Puerta Torrontes – $11.49
2008 Crios de Susanna Balbo Torrontes – $18.99 
2007 Gehringer Brothers Classic Ehrenfelser – $16.99 
2005 Feuidi di San Gregorio Rubrato – $26.99
1999 Mastroberardino Radici Taurasi Riserva – $57.99
2005 Galardi Terra di Lavoro – $129.99