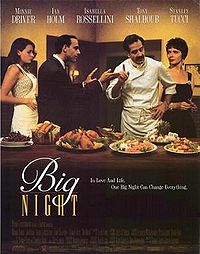 Authors: Nick Tooke, Ed Fong
deVine Wines organizes first annual "Al Fresco 104th St." block party to benefit the Alberta Council of Women's Shelters, Satuday, June 13th.
The team at deVine's has garnered approval from the City of Edmonton to close 104th St. between Jasper ave. and 102nd Avenue the night of Saturday, June 13th in order to stage an everyone welcome block party culminating with a two-and-a-half storey outdoor movie screen showing of "Big Night" with Stanley Tucci and Minnie Driver. The movie begins at 10pm and is free of charge to the public. Please bring your own chair.  Events throughout the day will involve the majority of the businesses on our street. We have also set up an on-line silent auction fundraiser with some very exciting items to bid on, check it out here.
From the very beginning, "Al Fresco 104th St." was conceived as a community event. The businesses and residents along 104th believe that downtown Edmonton is a vibrant and growing community and want to share their enthusiasm in the name of a worthy cause. Please mark your calendars and come out and enjoy the festivities.
Please visit deVine's charity of the year – the Alberta Council of Women's Shelters website: http://www.acws.ca
As well, here is the schedule of events for June 13th (subject to change):
"Open door" wine tasting of up to 50 wines at deVine Wines. $15 entry fee, come and go from noon to 10 pm.  Proceeds to the Alberta Council of Women's Shelters (ACWS).
Outdoor fashion show by C'est Sera, Blunt Salon, and Eyecare Group beginning at 5:30 pm. DJ music provided by C'est Sera for the balance of the evening.
In-store cash bar at 29 Armstrong Design Studio featuring a selection of Port and Single Malt Whiskey from 3 pm until midnight. Proceeds to the ACWS.
Portuguese style charcoal barbecue run by Annabelle Evaristo of deVine Wines from 5 pm. Proceeds to the ACWS.
Skate-board and Long-board demonstration by Pipeline Surf Shop beginning at 5 pm.
Two licensed outdoor patios for up to 100 people each: One by TZiN Wine and Tapas (with an ideal view of the movie) and the other an "Eat Local First" patio by Blue Plate Diner featuring local organic produce and craft-brewed beer.
Movie "Big Night" to start at 10 pm, please bring your own chair.
Free Popcorn for the movie provided by Sobey's Urban Fresh.
Espresso Coffee by St. City Roasters and Sobey's Urban Fresh from 5 pm. Proceeds to the ACWS.
Artisan gelato by Leva Café.