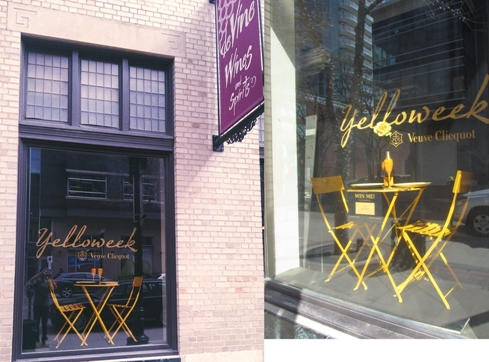 Author: Dirk Chan
Charton Hobbs and Veuve Clicquot is proud to announce the launch of Yelloweek, an annual festival-style 'tribute to creativity' showcasing gastronomy, arts, fashion and lifestyle.
This year's event takes place this year from May 1st to 7th inclusive, Edmontonians are invited to explore and enjoy a series of creatively-inspired events spanning several categories, including: Yellow TABLE, Yellow BY THE GLASS, Yellow NIGHT and Yellow CONTEST (of which deVines is a part of). Check out all the Yelloweek festivities in Edmonton
deVine will be the place for the Yellow CONTEST, an opportunity to take home a little piece of sunshine – a chance to win a beautiful Veuve Clicquot Bistro Patio Set for two!. Enter your name at the store now, no purchase necessary, contest ends May 31st.
Be sure to come down and check out our brand new Yelloweek decorative window!

Have a great Yelloweek everyone!