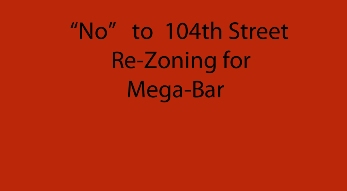 Author: Ed Fong
It has come to our attention a request has been submitted to the City of Edmonton for changes in zoning for 104th Street to support a mega-bar on 102 & 104th Street. deVines and many residents and other businesses are strongly against a 600 seat bar going in – do we want to end up being another bar street like Whyte Ave?
We are not opposed to vibrancy and licensed venues, but are opposed to something so large in scale that it could change the character of this neighbourhood drastically. Our Heritage Zoned street has a special "feel" and atmosphere to it, and a large venue of this size could destroy what we have worked so hard for quickly. It is a matter of compatibility with what is already in place on our street.
We ask all residents in our area to voice their disapproval to the city planner in writing before July 19. Please send to Carla Semeniuk, her email address is carla.semeniuk@edmonton.ca. Time is of the essence here everybody. Please act quickly to voice your opinion.
More detailed information in Ed's official email letter to Carla here..