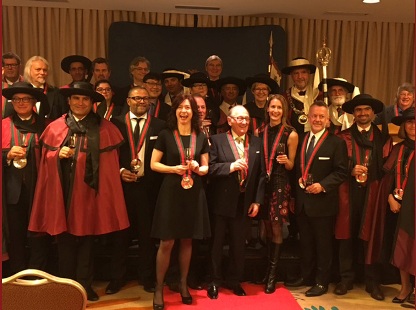 Author: Dirk Chan

On October 31st, Annabelle and I were inducted as Honorary Confrades with the rank of Cavaleiro (Knight) into the Confraria do Vinho do Porto in an Enthronement Ceremony and dinner held at the Four Seasons in Vancouver. There were 20 of us from Canada inducted in this year's ceremony – it was the first time the ceremony has been held in Western Canada (previously in Toronto and Montreal).
The Confraria do Vinho do Porto (Port Wine Brotherhood) is a non-political, not for profit, organisation, established in 1982 with the purpose of communicating, and enhancing the worldwide reputation of Port Wine and its moderate consumption. The Confraria welcomes into its organisation, persons who, by their actions, reputations, or position make a significant contribution to the image and knowledge of Port Wine. The Cavalerio title is given to those who have been recognized for having made a commitment and a true contribution to Port Wine.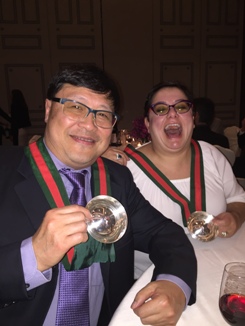 The ceremony was a formal black suit affair, we were each introduced and our contributions read aloud (humorously of some people I must say), then presented with a bright green and red ribbon from which hangs the Tambuladeira (silver emblematic port tasting cup), and the diploma whereupon we signed the Roll of Honour confirming your admission as an Honorary Confrade.
You don't have to call us Lady Annabelle or Sir Dirk for this was a humbling affair given some of the other honorees – including a government official and Canada's first female Master of Wine, Barbara Philip – but it was sure nice to be in their company none the less.
For more info on the Confraria, click here..
You have to be nominated by a Port house for this honor, and we're grateful to Quinta do Portal for the nomination. We have loved their wines for more than a decade now – below are some of our favourites, both port and reds: (pictured with us is Leila Zuniga of Lifford Wines (Alberta agent for Portal) and Joao Branco (Board Member of Portal):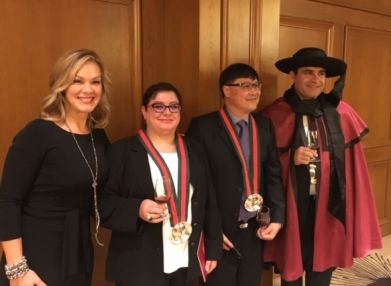 NV Quinta do Portal Lagrima White Port (Douro, Portugal) – $25.99
2003 Quinta do Portal Vintage Port (Douro, Portugal) – 375mL – $34.99
Quinta do Portal 20 Year Old Tawny Port (Douro, Portugal) – $76.99
2009 Quinta do Portal Touriga Franca (Douro, Portugal) – $46.99
2009 Quinta do Portal Auru (Douro, Portugal) – $159.99