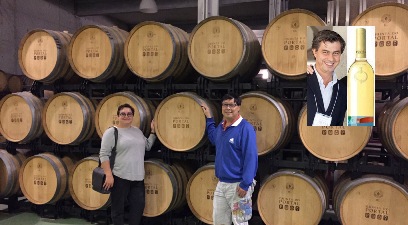 Author: Dirk Chan
deVine welcomes Pedro Almeida Santos, Export Manager of Quinta do Portal for a special stand-up tasting and traversal of representative wines of this popular family-ran Douro producer on Thursday, April 6 @ 7pm – $35.
deVine has been a long time supporter of this winery (and they of us), who over the last decade has achieved deserved recognition for producing quality and varietally correct wines at an affordable price!
Vines have been grown in their harsh and beautiful land for hundreds of years although Portal has only been around since 1986. Before that, they were known as Quinta Casal de Celeiros. There's some fascinating history as Celeiros was one of the very earliest Quintas to employ women to tread grapes in the lagares, it is also the only property in the entire Douro region that was not affected by Phylloxera in the turn of the century. Also, they sold off a lot of their grapes in the 1960-1980's to Sandeman. There's more stories to be had if you attend the tasting with Pedro.
We'll be tasting through a vast range of Portal wines, both white and reds, and ending with one of the house's great Vintage Ports. Please book early to avoid disappointment.
Pictured – Annabelle and Dirk in the barrel room of Portal in the fall of 2015.
More information and to register for the tasting, click here….