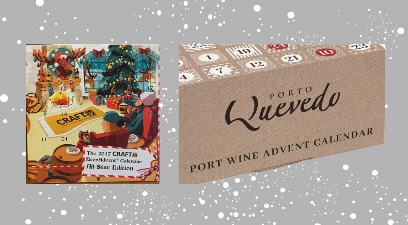 Author: Dirk Chan
Hard to believe but the ever-popular Chrismtas Advent calendars are upon us already. Always among the most trending and popular gift ideas for the fast approaching holiday season, these are wonderful gifts for those who like to be surprised.
For the agnostic or uninitiated, an advent calendar is a specially constructed calendar used to count or celebrate the days in December leading up to Christmas from the 1st to the 24th. The 'advent' part comes from Christian tradition, whose 24 day advent season generally starts between November 27 and December 3rd. Each physical advent calendar presents a rectangular "window" front with 24 doors in non-consecutive order to be opened, one each day until Christmas.
The origin of the Advent Calendar can be traced back to the 19th Century where Protestants made a chalk line for every day in December unil Christmas Eve and that has continued to this day. The traditional advent calendars filled with various chocolates dates to 1958.
Well, this year for the first time deVines is offering a Port Advent Calendar from Porto Quevedo – $109.99, consisting of 24x50mL mini-bottles – there are eight different offerings repeated thrice in a random fashion. Quevedo is located in the small town of San João da Pesqueira, right in the heart of the beautiful Douro Valley. Having sold their grapes for decades to Taylor-Fladgate, they decided to venture on their own in 1991. Love the small footprint of the packaging.
For the beer lover, the ever popular and first on market Craft Beer Advent Calendar is already here, this year's theme featuring an All Star Edition, all we know is there's great breweries providing beers from all over – countries represented are from Italy, Austria, Norway, Estonia, France, Spain, New Zealand, Germany, Netherlands, UK, US and of course Canada.
We will have a few available in the store but we are not stockpiling them. We are asking you to pre-order these two advent calendars online – purchase by noon monday and we will have it in the store on wednesday. Secure yours sooner than later to avoid disappointment.
2017 Porto Quevedo Port Advent Calendar – $109.99
2017 Craft Beer Advent Calendar – $169.99
Stay tuned, I am sure there will be other Advents showing up very shortly…