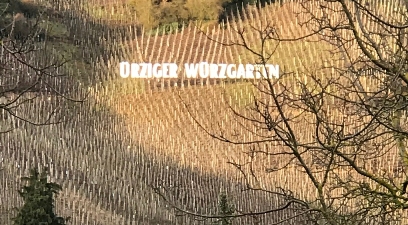 Author: Dirk Chan
The City Market returns this Saturday, 9-3pm – yay!
Be sure to drop by starting at 11am as we introduce the Traveler's Series of free tastings, whereby one of the partners of deVines will be serving and talking about wines, beer or spirits from our extensive travels to wineries, breweries and distilleries. Sample the wine and hear the anecdotes and stories! Then stay for our ongoing Agent Free Pours from noon-3pm which includes wine and beer pours.
The inaugural tasting wil be hosted by Ed Fong and we'll take advantage of his recent trip to Germany to sample two Rieslings and a beer.
Pictured is the Urziger Wurzgarten Vineyard from Erbes. We'll be tasting the following:
1) 2015 Erbes Urziger Wurzgarten Riesling Kabinett (Mosel, Germany) – $21.99
2) 2014 Fritz Haag Riesling Trocken QBA (Mosel-Saar-Ruwer, Germany) – $15.99
3) Fruh Kolsch (Germany) – 500mL Can – $3.99
Do join us this saturday!