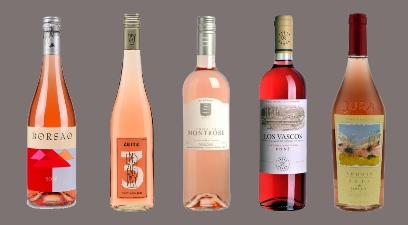 Author: Dirk Chan
We went from winter to summer in one shot, thus bringing the rosé season into high gear pretty quickly here!
Pinks are the rage, perfect for sipping on the deck, yet perfectly comfortable as a food and wine pairing. 95% of rosé are dry and its quickly finding a niche with the North American public. We've got lots of pinks on hand to choose from so drop in.
Pictured left to right:
2016 Bodegas Borsao Rosé (Campo de Borja, Spain) – $16.99
Alley 2016 Leitz Rosé Trocken (Rheingau, Germany) – $22.99
2017 Domaine Montrose Rosé (Languedoc-Roussillon, France) – $19.99
2017 Los Vascos Rosé (Calchaqui, Chile) – $18.99
2016 Rolet Jura Rosé (Jura, France) – $25.99

Other interesting pinks for your consideration:
2016 Spier Chardonnay Pinot Noir Rosé (Western Cape, South Africa) – $15.49
2016 Ogier Heritages Cotes du Rhone Rosé (Rhone Valley, France) – $21.99
2017 Rioja Vega Principe de Viana Rosa (Navarra, Spain) – $21.99
2017 Rudolf Rabl Zweigelt Rosé (Kamptal, Austria) – $22.99
2017 Jolie-Pitt & Perrin Côtes de Provence Rosé Miraval (Provence, France) – $29.99
We have many other new rosés arriving so check out our dedicated rosé section the next time you're in. Also, don't forget to sign up for our stand-up Rosé tasting, entitled A Rosé by Any Other Name – $30 that is selling fast, you can register here..