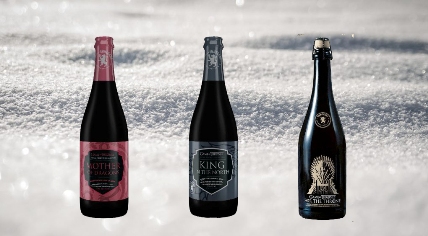 Author: Dirk Chan
Brewery Ommegang based out of New York has been releasing special beers for the Game of Thrones tv series for years now. Just in time for sunday's premiere of the final series, deVines has three beers in stock that you can have a viewing party with.
There is the Mother of Dragons brew that blends smoked porter and ruby-colored Belgian kriek for the ultimate fire-and-blood beer. There is the King of the North, a dark, barrel-aged imperial stout fit for a bastard-son-turned-legend and finally for the final season, we have the latest GoT beer, and it's most fitting – a beer made with wine ingredients called For the Throne – a Belgian style golden ale base that is co-fermented with a blend of Pinot Grigio and Viognier grape juices, undergoing secondary fermentation with Champagne yeast for a sparkling effervescence and a crisp, clean finish truly fit for royalty!
Get yours while supply lasts.
Pictured left to right:
Ommegang G.O.T. Mother of Dragons (New York, United States) – 750mL – $17.49
Ommegang G.O.T. King of the North (New York, United States) – 750mL – $17.49
Ommegang G.O.T. For the Throne (New York, United States) – 750mL – $21.49