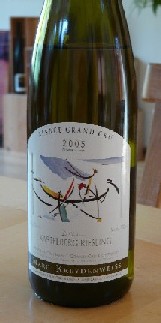 Authors: Ed Fong, Dirk Chan
Eddie and Annabelle's adventures in Alsace finished with a visit to one of the leading biodynamically certified estates of Domaine Marc Kreydenweiss, the acknowledged rebel of Alsace…With 30 hectares of vineyards, three Grand Cru sites, Marc clearly believes great wine can only come from a vineyard with soil type that places it mark, terroir, minerals and extract. Established three centuries ago,  Marc has ran this estate since the 1971 vintage, and since 1991 the estate has been farmed biodynamically.  
Pictured are two Grand Cru wines we sampled : the 2005 Kreydenweiss Kastelberg Riesling (south-facing single vineyard looks over the small town of Andlau dates back to Roman times, full-bodied, racy, lime & spicy, very ripe and minerally), the 2006 Kreydenweiss Wiebelsberg Riesling (off-dryish star fruit, herbs, smoke, honey and exotic scents).
Marc wanted to do a red wine, and thus he purchased an estate in Costieres de Nimes where old-vine Carginan, Mourvedre, Syrah and Grenache are at his disposal. Look for Marc's Costieres de Nimes Perrieres soon. Many thanks to our friends at Domaine Wines for organizing this visit. Ed & Annabelle will move onto Reims in Champagne next.
2003 Marc Kreydenweiss La Dame Wiebelsberg Riesling – $44.99