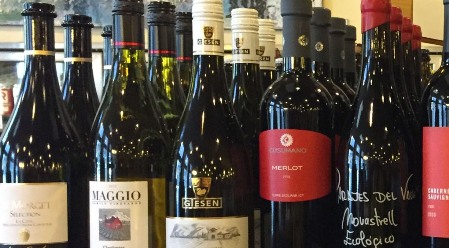 Author: Dirk Chan
In light of physical distancing due to COVID-19, we want to make things easier for our customer base to shop and obtain products.
Firstly, we are now offering free delivery within city limits for any $50 purchase of wine and/or spirits). We're delivering daily – for those in isolation, we ask you to show photo-id at the window before we can leave product (there has to be an adult that we can see accepting delivery) on your steps. Curb-side service is also available, just call us when you're in the vicinity and we'll drop your purchase into the trunk and off you go, you can show photo-id through your car window.
I want to emphasize that you can shop online 24/7 at devinewines.ca – our entire inventory is online and easily searchable ("Products"->Keyword->Search). You can place your order online or drop us an email with your requirements or give us a phone call – 780-421-9463.
As well, we are offer three packages for quick on-line purchasing – our regular Case of the Month, a higher-end monthly six pack and the new Custom case – you specify what you want in the "Comments" box – e.g 9 full-bodied reds, 2 whites and a rose. The deVine staff will pick a great selection for you with your criteria.
For non-case purchases – there is a $5 delivery charge within the downtown core and regular delivery charges based on distance from our downtown location for all other purchases which we will quote you for approval. If there is anything we can help you with, don't hesitate to call or drop us a line at "info@devinewines.ca".
As of Monday, March 30th, we are reducing our in-store hours to 6pm everyday except Friday (7pm). We are asking people to knock on our second door to be let in so we can control the number of shoppers at any one time. Our cleaning protocols have been heightened, be assured that we are doing above and beyond sanitizing and cleaning of shelves, floors, bottles, counters, debit machines etc to ensure you have a safe environment to shop in.
We're starting our April case early as the March cases have all sold out.
Our April Case of the month is here
Our April Six Pack of the month is here
Our Custom Case is here
We will keep everyone abreast of changes as further developments occur.
Everyone, please take of yourselves and your loved ones in this difficult time.